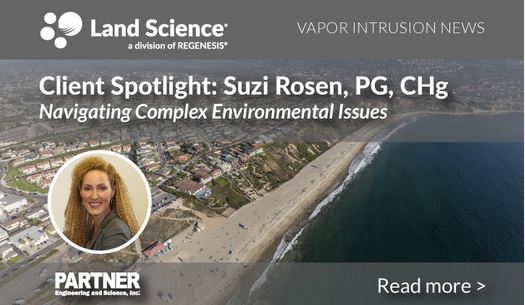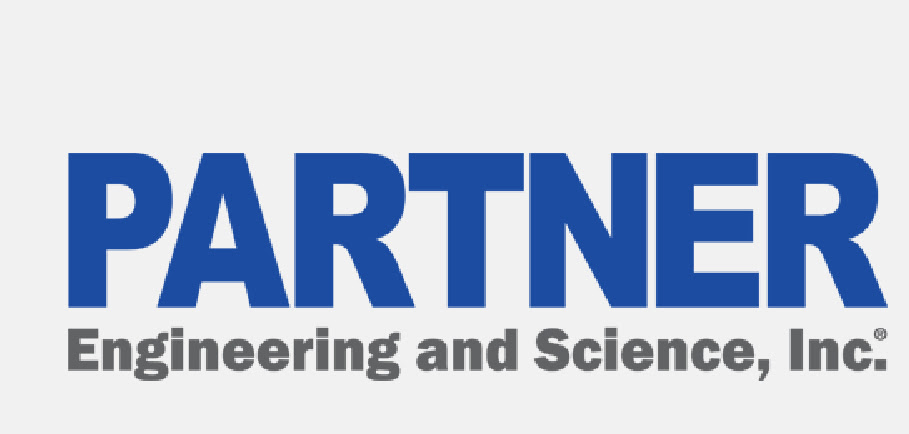 It's not often Land Science® has the opportunity to work with a valued client whose background includes extensive experience with its parent company, REGENESIS. However, Suzi Rosen, PG, CHg, Principal and Technical Director for Partner Engineering & Science, Inc., is an exception. In addition to her experience in site assessment, remediation, and expert witness/litigation support at various consulting firms, Suzi also served with REGENESIS for 3 years as a Southwest District Technical Manager. She shares, "My experience at REGENESIS was very important in my career development, and together with my other experience, helped prepare me for my role with Partner. Currently, my day-to-day responsibilities include serving as a technical resource for projects throughout the country that require some type of regulatory agency interaction or remedial/mitigation action, as well as overseeing and managing projects."

Featured Case Study: TerraShield Protects Future Occupants from Harmful Vapor Intrusion

A large automotive and supply company planned to build its new corporate headquarters on a 4.5-acre brownfield site recently acquired in Southfield, MI. Soil and groundwater sampling on the property revealed the presence of trichloroethylene (TCE) and polynuclear aromatic hydrocarbons (PAHs). TCE was also identified in soil gas beneath the site. Within the footprint of the planned building itself, contaminant concentrations were found to be in excess of applicable indoor air quality screening levels. The developer utilized brownfield funding from the local authority to conduct the necessary environmental remediation measures.
Featured Project Snapshot: Leading Hotel Chain Moves Forward With Brownfield Site Construction Following Installation of Vapor Barrier System
The project site is a modern, climate-controlled self-storage facility that includes all-in-one moving, packing, and storage services for its customers. The building was developed on a former industrial brownfield at the site of a former factory. As part of Maryland's Voluntary Cleanup Program, the environmental consultant completed a Phase II investigation, finding elevated chlorinated solvent contaminants in the soil gas. The Maryland Department of Environment required the installation of a vapor mitigation system over a portion of the building. However, in working with the consultant, it was ultimately determined that a vapor barrier spanning the entire building footprint would be necessary to protect the future building tenants fully. Based on chlorinated solvent concentrations, TerraShield® was specified to provide the highest level of chemical resistance and long-term barrier performance available on the market. The project required active venting and a site-specific design, leveraging Land Science's vapor barrier design expertise. Additionally, the TerraShield vapor mitigation system included an extended material warranty to provide the project stakeholders added assurance that building occupants would be protected long into the future.
Superior Chemical Resistance Over Any Vapor Barrier on the Market Today
When developing properties on sites with known environmental impacts, one of the biggest issues is the risk to human health. Failure to address these issues can result in adverse health effects and millions of dollars in legal exposure. TerraShield was designed specifically to eliminate risk of exposure by employing innovative technologies to provide best-in-class chemical resistance and durability. Backed by a robust warranty and installed by Land Science-certified applicators, each TerraShield installation is rigorously tested to ensure the quality of every seal and ultimately the complete vapor barrier system installed.

Are You a Member of the AVIP? Join Today!

Land Science is pleased to be 2021/2022 Annual Platinum Sponsors for AVIP! The purpose of AVIP is to build a community of professionals dedicated to advancing the industry and providing a forum for informational exchange of knowledge and science related to Vapor Intrusion (VI); as well as establishing a central resource for technology, guidance, standards, credentialing and best practices for both those in the industry and those seeking VI related services.

At Land science, we know many environmental firms are investing time to focus on staff training to get up-to-date on new technologies and regulations. We have prepared a library of pre-recorded webinars available on our website at no charge. Topics include vapor intrusion regulations and mitigation. We will also provide certificates of attendance for any webinar viewed upon request by emailing marketing@regenesis.com.
Have a Vapor Intrusion Project? Get Started Today!
To receive a custom vapor intrusion solution, please call 949.481.8118 or visit landsciencetech.com/contact-us. One of our Technical Solutions Managers will review your project details and provide you with a customized vapor intrusion solution designed to achieve your site goals.