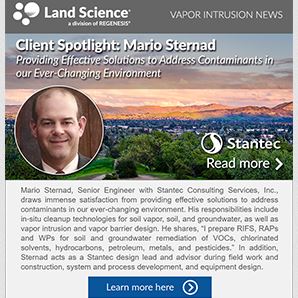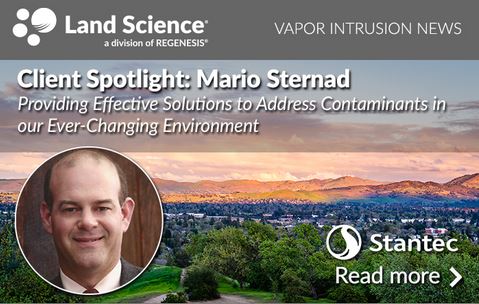 Mario Sternad, Senior Engineer with Stantec Consulting Services, Inc., draws immense satisfaction from providing effective solutions to address contaminants in our ever-changing environment. His responsibilities include in-situ cleanup technologies for soil vapor, soil, and groundwater, as well as vapor intrusion and vapor barrier design. He shares, "I prepare RIFS, RAPs and WPs for soil and groundwater remediation of VOCs, chlorinated solvents, hydrocarbons, petroleum, metals, and pesticides." In addition, Sternad acts as a Stantec design lead and advisor during field work and construction, system and process development, and equipment design.


Sawyer Yards is an apartment community located in Houston's vibrant Arts District neighborhood. Chlorinated solvents were detected in soil gas, posing a potential vapor intrusion risk to future residents. The original vapor mitigation system (VMS) specification called for a single layer barrier with taped seams. However, the building's foundation contained many utility penetrations and terminations, requiring numerous taped seams. These taped seams significantly reduce application efficiency and ultimately result in potential barrier weak points. In contrast, MonoShield® incorporates a spray-applied nitrile-advanced asphalt latex, offering superior application efficiency with unmatched chemical resistance.

MonoShield is a chemically resistant and easy-to-apply barrier specifically designed as a preemptive solution for vapor intrusion at brownfield redevelopment sites. It is backed by unparalleled design support, standard industry warranty, and a network of certified applicators who can ensure quality installation. To learn why developers are increasingly turning to MonoShield for a fast and cost-effective preemptive vapor mitigation solution, download the brochure.
5 Reasons to Consider a Preemptive Vapor Barrier to Protect Your Property Investment
Historically, easily-punctured thin-mil plastic sheets or inflexible and difficult-to-seal High Density Polyethylene (HDPE) Barriers were the only option for vapor mitigation at large warehouses or sites where regulatory requirements were not a driving risk factor. These solutions offered either chemical resistance or constructability, but not both. Composed of an innovative, metalized-film, MonoShield sets the standard for preventing diffusion and permeation of chemical vapors. Its nitrile-based asphalt latex ensures a seal far more effective and easier to apply than tape-based or heat-welded systems. Download the ebook to learn more.

A growing manufacturer looking to expand its operations purchased a vacant industrial facility in Lansing, Michigan, where chlorinated solvents were used and spilled into the subsurface. The environmental consultant was asked to address the suspected vapor intrusion concerns resulting from the former industrial operations. In working with the Michigan Department of Environment, Great Lakes & Energy (EGLE), the consultant proposed utilizing the Retro-Coat® Vapor Intrusion Coating System, in combination with passive venting, to ensure safe indoor air for the future workers.
eBook Providing 10 Reasons to Consider Retro-Coat to Protect Your Property Investment

Vapor intrusion occurs when there is migration of vapor-forming chemicals from any subsurface contaminant source into an overlying building. When vapor intrusion is detected, it becomes necessary to design a solution to mitigate the problem. Retro-Coat™, a chemically resistant coating designed to resist aggressive chemical vapors, is a cost-effective technology with many advantages over alternative options for existing structures and has been gaining popularity and acceptance as an effective vapor intrusion mitigation strategy. To learn more about the benefits of Retro-Coat, download the eBook.
Vapor Intrusion Solutions in the News!
---
The new lineup of vapor intrusion mitigation technologies from Land Science is making waves throughout the environmental industry. The use of nitrile-advanced latex and metalized films is providing the most protection available to the industry. TerraShield, MonoShield, and Nitra-Seal are delivering best-in-class results, including a higher level of chemical resistance and superior constructability. And environmental professionals are increasingly turning to MonoShield as a new preemptive vapor risk mitigation solution at large warehouses and brownfield redevelopment sites. As a result, these new products are creating buzz in the news. of environmental remediation and vapor intrusion mitigation.
Land Science in the News:
---
  The Past, Present and Future of Vapor Intrusion Barriers Read article here

REGENESIS Expands U.S. Manufacturing and Distribution Operations with New Facility in Tennessee Read article here
REGENESIS Announces Full-Suite of Innovative, Chemically Resistant Vapor Intrusion Mitigation Barriers; Retiring Geo-Seal From Its Line Read article here
The Science Behind the Number One Contaminant Vapour Barrier System Read article here
Get Started Today
To receive a custom vapor intrusion solution, please call 949.481.8118 or visit landsciencetech.com/contact-us. One of our Technical Solutions Managers will review your project details and provide you with a customized vapor intrusion solution designed to achieve your site goals.