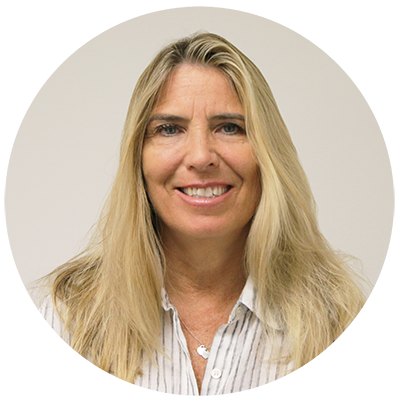 As one who has followed REGENESIS' growth for many years, joining the company's Land Science® division as its new Inside Sales Manager was especially gratifying for Kim Bradley. "I have enjoyed watching REGENESIS grow over the last 20 years," says Bradley. "Over that time, I have seen the company evolve into a leader in remedial technologies for both in-situ remediation and vapor intrusion mitigation. For some time now, I wanted to get back to my environmental roots after focusing on process safety and construction, so joining Land Science® is a natural fit."  In her new role, Bradley will provide technical and project support for vapor intrusion (VI) sites across North America for the company's technical sales team. In addition, she will also initiate community outreach and education on VI barrier solutions, emerging regulations, and industry best practices by moderating presentations to property owners, developers, architects, environmental firms, and general contractors.
With a background that includes experience in engineering, project management, and business development, Bradley brings an appealing range of expertise to her position, and looks forward to the challenges and rewards ahead. She continues, "I'm excited to work with the various departments at REGENESIS and that I will be interfacing with all divisions."  When asked what her future goals moving forward are with REGENESIS and Land Science®, Bradley stresses the importance of building industry relationships. She continues, "A key priority of mine will be to increase the industry awareness of Land Science and REGENESIS by strategically planning and developing relationships with the top developers, architects, and general contractors." Developing these all important relationships should come naturally to Bradley, who feels the best aspects of her profession involve, "Collaboration, education, strategic planning, and client relations." And the most challenging part of her work? "Keeping up with the numerous regulatory agencies' interpretation of the emerging regulations. Our industry has become heavily regulated, resulting in a variety of potential innovative solutions. It's been my experience that as long as a regulator sees that you have a plan with a reasonable timeline in place, they will work with you."
While earning her Bachelor of Science in Civil Engineering from Michigan State University, Bradley enjoyed the environmental course work and became interested in a career in environmental engineering as a way of returning the environment to its natural state so that land can be rejuvenated and utilized again. After graduation she immediately began her career in Southern California as a consultant, project manager, and client advocate in the environmental, process safety and construction arenas.
When asked what she feels the future holds for environmental remediation, she points to the increased attention and emphasis within the regulatory space. She continues, "The regulatory requirements will only become more stringent with time, and I foresee more regulation focused on long-term solutions and more incentives or tax credits made available in exchange for compliance."
Residing in Laguna Niguel, Bradley is the mother of two children, and in her free time enjoys an array of water sports such as kayaking, white water rafting and boating. She also finds time for alpine skiing, hiking and camping, and is an avid college/professional football, baseball and hockey fan.  In her spare time she donates and volunteers for the Alzheimer's Foundation and to her local Business Development Guild. With regard to our planet and environment, she feels we all have a role to play in sustainability. "Everyone needs to embrace making our environment a healthier place to live, and I'm enjoying the fact that I can potentially make an impact."
REGENESIS is proud to have Kim Bradley as the new Inside Sales Manager for Land Science®, and looks forward to her leadership and contributions in providing successful remediation outcomes for REGENESIS, Land Science®, and its clients.