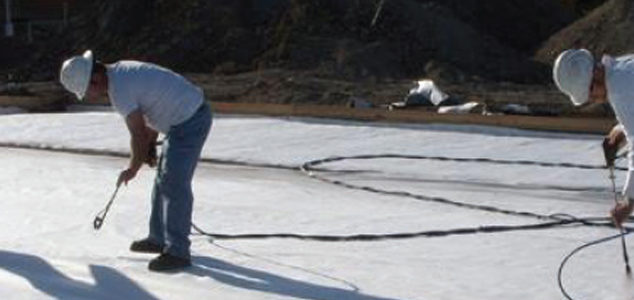 Project Highlights
Geo-Seal application helps obtain a No Further Action (NFA) letter from the Alabama Department of Environmental Management (ADEM)
Vapor intrusion barrier successfully reduces harmful contaminants left behind by former chemical plant operations
Geo-Seal applied to over 3,455 square feet
Project Summary

A fuel production facility in Alabama inherited environmental subsurface contamination when the site was acquired. The site was a former chemical plant operating since the 1960's. The chemical plant functioned as a large quantity generator (LQG) of hazardous waste, manufacturing hydrocarbon, gum rosin, and tall oil-based resins for over 30 years. Site investigations revealed several contaminants from industrial sources, including chlorinated volatile organic compounds (cVOCs) and polycyclic aromatic hydrocarbons (PAHs) such as naphthalene. Dicyclopentadiene (DCPD) levels posed a particularly significant vapor intrusion threat, with sub-slab vapor samples reaching as high as 48,000 micrograms per cubic meter.
The environmental consultant was hired by the site owner to aid in navigating the ADEM's voluntary cleanup program. The concentration of DCPD at the site indicated an elevated concern for potential contaminant vapor intrusion at the fuel production facility. Three of the existing buildings―a maintenance shop, laboratory, and control room―were at the highest risk for vapor intrusion based on the sub-slab vapor data. Based on the analytical data collected at the site, ADEM required that engineering controls, including vapor mitigation measures, be implemented in order to receive the coveted NFA letter. As a result, the environmental consultant specified a Land Science vapor intrusion barrier and installed it in the maintenance shop and control room in a retro-fitting capacity.
Download the complete case study
© 2021 All rights reserved. Geo-Seal is a registered trademark of Epro Services Inc.