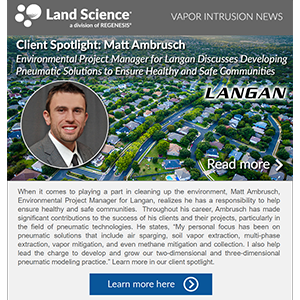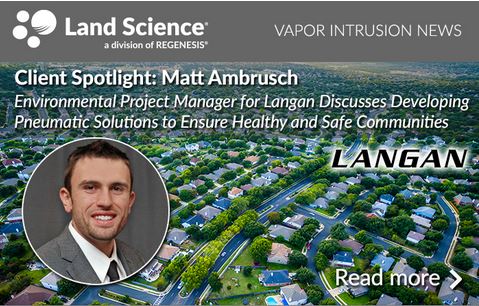 When it comes to playing a part in cleaning up the environment, Matt Ambrusch, Environmental Project Manager for Langan, realizes he has a responsibility to help ensure healthy and safe communities. Throughout his career, Ambrusch has made significant contributions to the success of his clients and their projects, particularly in the field of pneumatic technologies. He states, "My personal focus has been on pneumatic solutions that include air sparging, soil vapor extraction, multi-phase extraction, vapor mitigation, and even methane mitigation and collection. I also help lead the charge to develop and grow our two-dimensional and three-dimensional pneumatic modeling practice," Learn more in our client spotlight.

6 Reasons to Specify a Vapor Barrier Offering the Highest Level of Chemical Resistance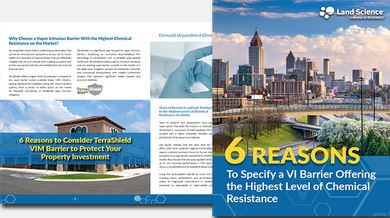 For properties where there is underlying contamination that cannot be removed and represents a serious risk to human health, it is important to have a solution that can effectively mitigate that risk and provide both building occupants and owners assurances that they are shielded from physical and financial harm. TerraShield offers a higher level of protection compared to any vapor barrier system available today. With industry- leading standards for installation along with robust warranty options, there is simply no better option on the market for industrial, commercial, or residential vapor intrusion mitigation.

---
Download Brochure: TerraShield Aluminum Nitrile Vapor Barrier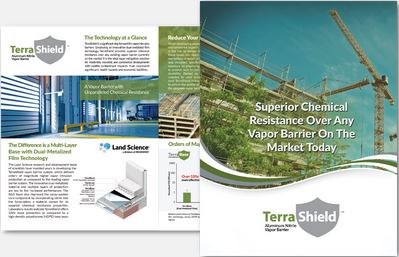 TerraShield is a significant step forward for vapor intrusion barriers. Employing an innovative dual-metalized film technology, TerraShield provides superior chemical resistance over any existing vapor barrier currently on the market. Download the brochure to learn more about TerraShield.

---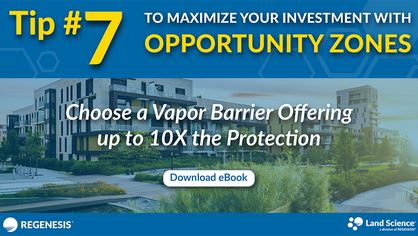 When considering an investment in Opportunity Zones, it is important to choose a vapor barrier system offering the highest chemical resistance. Nitra-Core is lab-tested to be up to 10x more effective than typical spray-applied SBR asphalt material. To learn more about our other Opportunity Zones tips, download the eBook.

---
Webinar Recording Now Available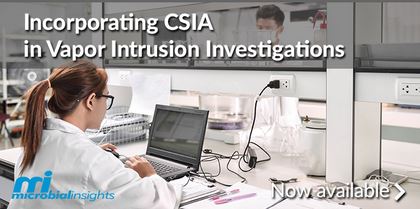 Land Science presented a webinar with Dora Taggart, President of
Microbial Insights, Inc.
, and Sam Rosolina, PhD, Analytical Chemist and Manager of the Compound Specific Isotope Analysis (CSIA) Laboratory at Microbial Insights. In this webinar, Dora and Sam discussed incorporating CSIA in vapor intrusion investigations. They were joined by Tom Szocinski, CEP, Director of Vapor Intrusion at Land Science, who discussed innovative new vapor barrier technologies that are more protective and more cost-effective. The recording of this free webinar is now available.

About the Presenters:
---
Dora Taggart
President, Microbial Insights, Inc.
Dora Taggart is the President of Microbial Insights, Inc. in Knoxville, Tennessee. She received a Biomedical Engineering degree from Vanderbilt University and has focused on the optimization and implementation of molecular tools for environmental remediation, microbiologically-influenced corrosion and microbial source tracking. Since joining Microbial Insights in 2001, she has developed and commercialized over 60 different nucleic acid-based analyses. Under her direction, Microbial Insights has become a worldwide provider of molecular tools for leading consulting firms, government agencies and academia. Ms. Taggart runs national and international workshops on these tools. She has more than 20 peer reviewed co-authored publications and is often invited to speak at conferences around the world.
Sam Rosolina, PhD
CSIA Lab Director, Microbial Insights, Inc.
Sam Rosolina is Director of the Compound Specific Isotope Analysis (CSIA) Laboratory at Microbial Insights. Dr. Rosolina received his B.A. in Chemistry from Berea College in Kentucky and went on to complete a PhD in Analytical Chemistry at the University of Tennessee in Knoxville. Sam is constantly working to broaden the scope of remediation analysis through the implementation of cutting edge methods and instrumentation, and is focused on making these analytical methods more accessible overall.
Tom Szocinski, CEP
Director of Vapor Intrusion, Land Science
Tom Szocinski is the Director of Vapor Intrusion of the Land Science division of REGENESIS, Inc. In his role, Tom provides executive leadership, market strategy and sales support, while further strengthening relationships with state and federal regulators, applicators and environmental consultants. Tom is a nationally recognized vapor intrusion expert with over 14 years' experience as an environmental scientist, focusing on vapor intrusion assessment and mitigation, remediation, site assessment, and Brownfield site management. He has served on both state and federal regulatory vapor intrusion review boards, assisting with development of vapor intrusion and mitigation guidance, regulations, and exposure criteria
---
Upcoming Events
Northwest Remediation Conference

10/3/2019, Tacoma, WA

Remediation Technologies Symposium 2019

10/16 – 10/18/2019, Banff, AB

35th Annual International Conference on Soils, Sediments, Water, and Energy

10/21 – 10/24/2019, Amherst, MA

Railroad Environmental Conference

10/22 – 10/23/2019, Urbana, IL

GRA Remediation Conference

11/13 – 11/14/2019, Santa Ana, CA

NGWA Groundwater Week

12/3 – 12/5/2019, Las Vegas, NV
Questions?
REGENESIS has remediation experts based worldwide to assist you in your brownfield site cleanup. As the technology leader in advanced bioremediation solutions, we can help ensure success on your next remediation project. Use the map on our website to find your regional REGENESIS contact today.