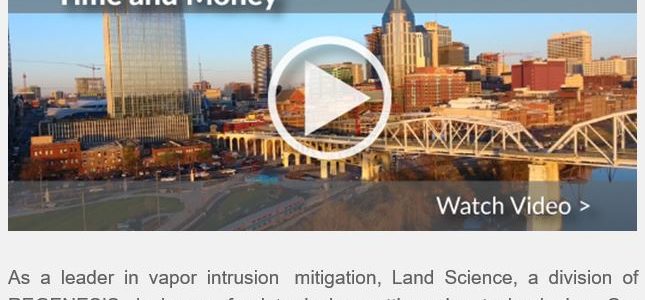 Featured Video: 5 Reasons Land Science Saves You Time and Money 
As a leader in vapor intrusion mitigation, Land Science, a division of REGENESIS, is known for introducing cutting-edge technologies. Our centrally-located warehouse in Gallatin, TN, serving all of North America, is state-of-the-art and our logistics team is ready to fulfill your order to ensure your project remains on time and on budget. Watch the video to learn how Land Science can save you time and money on your next site.
Subscribe To Our Monthly Newsletters
Spotlight on Experience: Nick Mjolsness, West Region Manager
Nick Mjolsness is the West Region Manager of the Land Science® division of REGENESIS, Inc. Nick's role includes providing technical support in the design and installation of TerraShield, Nitra-Seal, MonoShield and Retro-Coat vapor mitigation systems, and educating the environmental community on advancements in vapor intrusion barrier technology, implementation, and quality control by making presentations to environmental firms, regulatory agencies and developers. Nick is a technical sales expert with years of experience in vapor intrusion (VI) mitigation, specializing in assisting clients with solutions for the redevelopment of brownfield properties. Learn more about Nick by watching the video.
Jordan Knight, National Sales Manager, General Session Speaker at Global EnviroSummit 2022 
Attending the Global EnviroSummit 2022 in Charlotte, NC? Make sure to attend Jordan Knight's presentation entitled, "Three Technology Advancements in Vapor Mitigation." Recent advancements have been made to vapor intrusion barrier materials that will better address the VI inhalation pathway on a long-term scale against radon, methane, petroleum constituents, and chlorinated solvent impacts for brownfield redevelopments sites. Three new VI mitigation barrier systems have been developed, incorporating revolutionary materials into the barrier design to create unprecedented chemical resistance while remaining cost-competitive for new construction applications. We hope to see you at the Global EnviroSummit April 4th-6th to learn more about these new technologies.
Contractor Magazine Article
This recent article by Contractor Magazine discusses proactive steps to mitigate environmental liability risk. Due to the continued need for affordable land in areas accessible to highly populated areas, and fueled by tax incentives, many new construction buildings will be constructed on or near brownfields where chemical releases have occurred. Risks from chemical contamination—including PFAS—are real, but can be mitigated through planning and new technologies. Learn more by reading the article.
Featured eBook: Resources for Maximizing Your Opportunity Zone Investment
This eBook outlines some tools and resources to assist environmental professionals in maximizing their investment in Opportunity Zone areas. Opportunity Zones, many of which are environmentally impacted properties, can be an excellent vehicle for investment and allow developers to generate value for both themselves and local communities. By utilizing the right tools and resources, the cost of environmental remediation can be limited while still achieving the desired results and helping to maximize return on investment.
Michigan AIPG Environmental Risk Management Workshop
6/14-6/15/2022, Roscommon, MI
Have a Vapor Intrusion Project? Get Started Today!
To receive a custom vapor intrusion solution, please call 949.481.8118 or visit landsciencetech.com/contact-us. One of our Technical Solutions Managers will review your project details and provide you with a customized vapor intrusion solution designed to achieve your site goals.