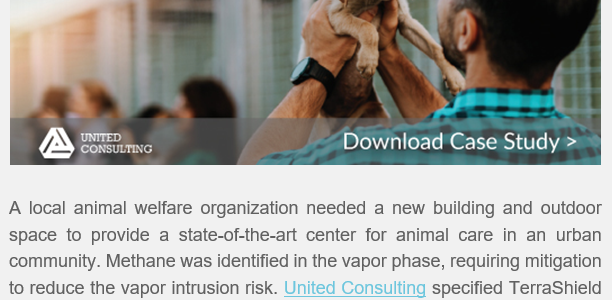 Featured Case Study | TerraShield Installation Leads to Development of Animal Welfare Facility 
A local animal welfare organization needed a new building and outdoor space to provide a state-of-the-art center for animal care in an urban community. Methane was identified in the vapor phase, requiring mitigation to reduce the vapor intrusion risk. United Consulting specified TerraShield due to its high level of protection against contaminant vapor intrusion. With the building protected from vapor intrusion by TerraShield, the facility workers, prospective pet foster parents, and the animals are ensured a safe breathing environment.
Client Spotlight | Spencer Cox, United Consulting 
If you ask Spencer Cox, Project Environmental Specialist at United Consulting, a multidiscipline engineering consulting firm and valued Land Science® partner, what his primary role is at work, you're likely going to get more than just one answer. That's because in addition to performing due-diligence assessments on residential, commercial, and industrial properties, he also negotiates properties through the Georgia Brownfields program, conducts Corrective Action Plans for hazardous waste facilities, and performs a host of other important responsibilities that impact the success of United's diverse client base.
eBook | 6 Reasons to Specify a VI Barrier Offering the Highest Level of Chemical Resistance 
For properties where there is underlying contamination that cannot be removed and represents a serious risk to human health, it is important to have a solution that can effectively mitigate that risk and provide both building occupants and owners assurances that they are shielded from physical and financial harm. TerraShield offers a higher level of protection compared to any vapor barrier system available today. With industry-leading standards for installation along with robust warranty options, there is simply no better option on the market for industrial, commercial, or residential vapor intrusion mitigation.
Featured Video | 1.2 Million Square Foot MonoShield Application at Historic Steel Manufacturing Site 
On the site of one of the largest former steel mills in the world, a large logistics center redevelopment project is underway. The development promises to transform the historic site into 15 million square feet of warehousing space and bring the community anywhere from 5,000 to 10,000 new jobs. Working with the environmental consultant and the developer, Land Science, a division of REGENESIS, was chosen to incorporate the MonoShield contaminant vapor barrier system to preemptively address any potential vapor intrusion issues.
Technical Data Sheet | The Fastest Vapor Barrier to Install is Also One of the Safest
MonoShield® is a single-layer, underslab contaminant vapor barrier offering superior chemical resistance, durability, and ease of installation versus traditional sheet membranes. The patented MonoShield system is composed of an innovative metalized composite geomembrane, MonoBase™, that is seamed together during installation with Nitra‑Core™, a spray‑applied, nitrile-modified asphalt. MonoShield is an optimal mitigation solution to reduce liability for large, slab-on-grade buildings where installation speed is critical, for sites with a low-level vapor intrusion (VI) risk, or for use in conjunction with active sub-slab venting systems.
Visit Our Training Library Today! 
At Land Science, we know many environmental firms are investing time to focus on staff training to get up-to-date on new technologies and regulations. We have prepared a library of pre-recorded webinars available on our website at no charge. Topics include vapor intrusion regulations and mitigation. We will also provide certificates of attendance for any webinar viewed upon request by emailing marketing@regenesis.com
Have a Vapor Intrusion Project? Get Started Today!
To receive a custom vapor intrusion solution, please call 949.481.8118 or visit landsciencetech.com/contact-us. One of our Technical Solutions Managers will review your project details and provide you with a customized vapor intrusion solution designed to achieve your site goals.