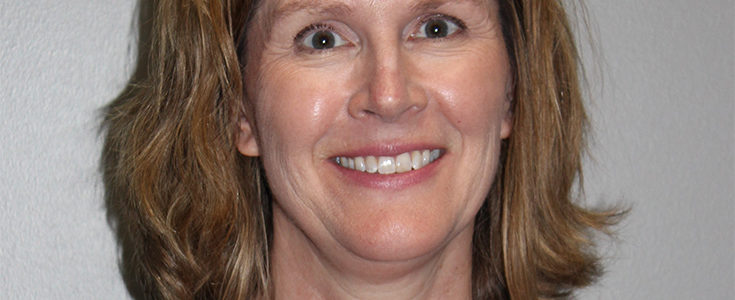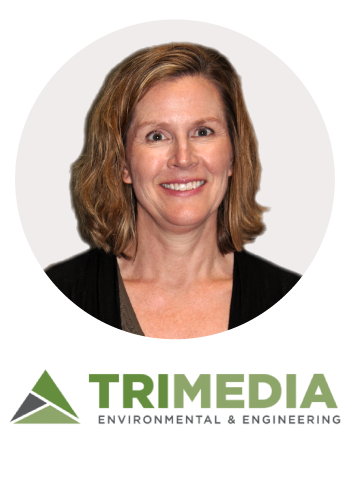 For working professionals who aspire to raise a family, staying on a chosen career path can be especially challenging. But when one gets back on track, it is worth the effort. Just ask Maura Pliska, Project Environmental Engineer for TriMedia Environmental & Engineering Services, LLC, a leading environmental and engineering firm and valued Land Science® client. She begins, "Initially, I worked for Waste Management and their associated entities in the Chicago area for approximately ten years after graduating from college with an engineering degree.  I then stayed home to raise my children for approximately 13 years. When it came time for me to return to the work force, my work experience in the waste and environmental industry lined up well with TriMedia, an established environmental consulting firm located in Marquette, Michigan where we were raising our family. I was excited to return to work in my field of choice and have really enjoyed the opportunities TriMedia provides me so I can continue learning and developing additional technical skills."  In her role with TriMedia, where she has worked the past 11 years, Pliska's responsibilities include environmental due diligence on Phase I and Phase II Environmental Assessments of commercial and industrial properties, and managing environmental regulatory compliance, including the development of various compliance plans and reporting required under state and federal regulations. She also works on Brownfield redevelopment, investigation and mitigation of contaminated sites, accidental spill reporting, and air permitting.
To prepare for a career in environmental engineering, Pliska graduated from the University of Illinois, Champaign, with a BS in General Engineering.  She continues, "The General Engineering program at U of I provided a solid technical overview of the various engineering disciplines, in addition to a business and communication core curriculum. After earning my degree, my initial work with Waste Management and their various entities allowed me to gain valuable experience in designing and permitting solid waste facilities. I also developed operating, closure and construction plans, and participated in quality assurance during the construction phase."  In addition, Pliska has completed the Land Science training, which qualifies her as a certified inspector. When asked what she enjoys about working with Land Science, she points to a recent project that involved significant construction on a prior industrial site. "I had the opportunity to work with Land Science during the Lake Superior State University/Center for Freshwater Research and Education project.  This was new construction on a former industrial site. Portions of the project were funded through an approved Michigan Department of Environment, Great Lakes and Energy (EGLE) Brownfield Redevelopment Grant and Loan, which provided additional new experience for me.  Land Science was great to work with throughout this project, providing both expertise and excellent service. It was through this LSSU-CFRE project that I became familiar with the Land Science TerraShield® vapor barrier system." As she continues to gain experience in her field, Pliska looks forward to strengthening her technical knowledge and enhancing her project management capabilities. With regard to TriMedia, she admires the company's diverse business model, which includes providing industrial hygiene, GIS, health and safety, and land surveying services.  She shares, "The opportunity to be involved in variety of projects is a big part of what makes TriMedia a great company to work for. For example, projects include industrial facility demolitions, mine safety oversight, river recovery projects, drinking water surveys, and utility locating services."
Recently relocated to Grand Rapids, MI, where she lives with her husband, Pliska enjoys a variety of activities outside of work, with hiking and kayaking as favorites. "A favorite hiking spot was Harlow Lake in Marquette, MI and our favorite kayaking was East Bass Lake in Gwinn, MI.  There are so many beautiful spots in Michigan's Upper Peninsula – you really can't go wrong.  We look forward to finding new spots in Southwest Michigan!" She also enjoys cooking, reading and the movies. She shares, " I like making comfort food in the winter like a beef stew or Guinness shepherd's pie.  I recently made Ina Garten's Tuscan turkey roulade that was a hit with the family!" When asked what she enjoys most about her work, she emphasizes how much she appreciates the opportunity to see a project through from concept through construction. And the most demanding aspect? "Keeping up with the ever-changing rules and regulations. Environmental regulations in this industry continue to increase in complexity, so this is an area I need to continually focus on."  She also feels vapor intrusion continues to evolve. She continues, "The increasing data and knowledge concerning per- and polyfluoroalkyl substances ("PFAS") will undoubtedly have an impact on trends in environmental mitigation." When asked how she would encourage others to join her field of study, she underscores the need for a younger generation to explore the many choices that are available. She concludes, "My daughter is a college student in engineering, and that is certainly a good start.  I would definitely recommend young people pursue internships in this field to ensure that environmental work is what they think it is. We can certainly use bright and curious minds going forward!"
Land Science is proud to have Maura Pliska, Project Environmental Engineer for TriMedia Environmental & Engineering Services, LLC, as a valued client and partner, and appreciates her highly specialized background and commitment in providing successful vapor intrusion mitigation outcomes for Land Science and its clients.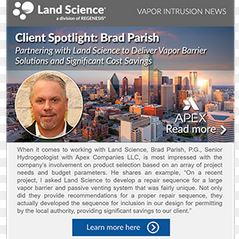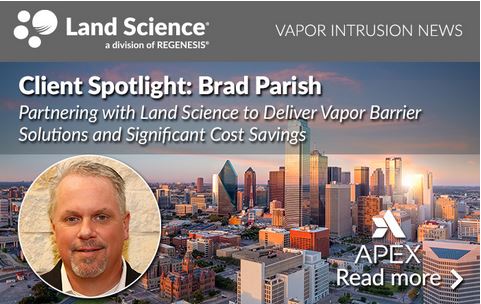 When it comes to working with Land Science, Brad Parish, P.G., Senior Hydrogeologist with Apex Companies LLC, is most impressed with the company's involvement on product selection based on an array of project needs and budget parameters. He shares an example, "On a recent project, I asked Land Science to develop a repair sequence for a large vapor barrier and passive venting system that was fairly unique. Not only did they provide recommendations for a proper repair sequence, they actually developed the sequence for inclusion in our design for permitting by the local authority, providing significant savings to our client."

TerraShield Installed as Part of LSSU's State-of-the-Art Center for Freshwater Research & Education

The Center for Freshwater Research and Education at Lake Superior State University (LSSU) in Michigan was undergoing a $14.5 million expansion to replace its successful aquatic research lab. Tri-Media Environmental & Engineering's Maura Pliska, the environmental project manager working with LSSU, recommended TerraShield Aluminum Nitrile Vapor Barrier to ensure a safe and healthy environment for LSSU's learning community. Balancing the concerns of cost, speed and effectiveness, TerraShield was chosen because it offers the highest level of chemical resistance of any vapor barrier on the market today, protecting against any possible level of vapor intrusion.
The TerraShield vapor mitigation system was installed at LSSU's research center successfully. With TerraShield installed as part of the development, faculty, staff and students are assured of the highest available level of protection from vapor intrusion for years to come and the community benefits from a world class research center serving Michigan's Upper Peninsula and beyond.
Superior Chemical Resistance Over Any Vapor Barrier On The Market Today
TerraShield is a significant step forward for vapor intrusion barriers. Employing an innovative metalized film technology in combination with a versatile spray-applied nitrile core, TerraShield provides superior chemical resistance over any existing vapor barrier currently on the market. It is the ideal vapor mitigation solution for residential, industrial, and commercial developments with volatile contaminant impacts that represent significant health hazards and economic liabilities.
Download the eBook to Learn More About Best-In-Class Contaminant Vapor Intrusion Protection

TerraShield is a significant step forward for vapor intrusion barriers. Employing an innovative metalized film technology in combination with a versatile spray-applied nitrile core, TerraShield provides superior chemical resistance over any existing vapor barrier currently on the market. It is the ideal vapor mitigation solution for residential, industrial, and commercial developments with volatile contaminant impacts that represent significant health hazards and economic liabilities. To learn more about the benefits of TerraShield, download the eBook.
Vapor Intrusion Webinar – Sign up today!

In this webinar we are pleased to have as a special guest speaker Tom Hatton, CEO of Clean Vapor LLC. His presentation will discuss subjective standards and the long-term liability of vapor intrusion. He will be joined by Jordan Knight, Central Region Manager of Land Science, who will share advanced vapor mitigation barrier technologies that can be incorporated into vapor mitigation system (VMS) designs to minimize the long-term liability that often comes with contaminated site redevelopment. This webinar starts Tues., January 19th, 2021 at 11am pacific/2pm eastern.
About the Presenters:
---
Tom Hatton
CEO, Clean Vapor LLC
Tom Hatton, CEO of Clean Vapor LLC, a highly sought-after speaker, consultant, and vapor mitigation system designer, pours over 30-years of knowledge and expertise into every project. You get the benefit of his unparalleled knowledge and insight into how environmental conditions and building dynamics lead to vapor intrusion. As a co-author and contributor to many state and national mitigation standards and guidance documents, Tom leads LSRPs, PEs, and building owners through the increasingly complex regulatory landscape on vapor intrusion projects.
Jordan Knight
Central Region Manager, Land Science
Jordan Knight is the Central Region Manager for Land Science. She provides technical support to engineering and consulting firms within her 22-state territory in the design and installation of vapor mitigation systems. Her role also includes educating the environmental community on advancements in vapor intrusion barrier technology, implementation, and quality control. Prior to joining Land Science, Jordan attended graduate school at Indiana University's School of Public and Environmental Affairs.

A new indoor sports training facility in Michigan includes two open-field playing areas, encompassing approximately 20,000 square feet. The facility was constructed near a former landfill, and a combination of soil gases act as potential vapor intrusion sources, including methane, petroleum hydrocarbons, and chlorinated solvents. The building's foundation consists of caissons with grade beams in the areas spanning the waste material and trench footings along the edges. The engineering consultant, SME, compared the soil gas results to the listed screening levels to support the design of the vapor mitigation system. The project development team selected MonoShield® over a 20-mil, taped-seam vapor barrier due to its superior chemical resistance and quality control testing by a Land Science certified applicator, making the application more efficient and providing a high degree of confidence to the project stakeholders.

MonoShield is a chemically resistant and easy-to-apply barrier specifically designed as a preemptive solution for vapor intrusion at brownfield redevelopment sites. It is backed by unparalleled design support, standard industry warranty, and a network of certified applicators who can ensure quality installation. To learn why developers are increasingly turning to MonoShield for a fast and cost-effective preemptive vapor mitigation solution, download the brochure.
5 Reasons to Consider a Preemptive Vapor Barrier to Protect Your Property Investment
Historically, easily-punctured thin-mil plastic sheets or inflexible and difficult-to-seal High Density Polyethylene (HDPE) Barriers were the only option for vapor mitigation at large warehouses or sites where regulatory requirements were not a driving risk factor. These solutions offered either chemical resistance or constructability, but not both. Composed of an innovative, metalized film, MonoShield sets the standard for preventing diffusion and permeation of chemical vapors. Its nitrile-based asphalt latex ensures a seal far more effective and easier to apply than tape-based or heat-welded systems. Download the ebook to learn more.
Get Started Today
To receive a custom vapor intrusion solution, please call 949.481.8118 or visit landsciencetech.com/contact-us. One of our Technical Solutions Managers will review your project details and provide you with a customized vapor intrusion solution designed to achieve your site goals.