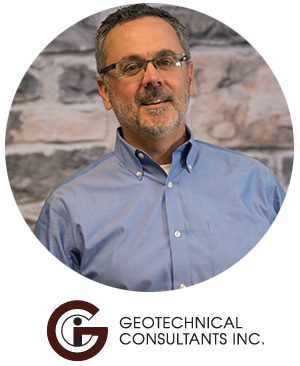 For Bruce Savage, Vice President, Director of Environmental Services at Geotechnical Consultants, Inc. (GCI), a leading full-service, geotechnical engineering and environmental consulting firm, motivation comes easy in fulfilling his day-to-day responsibilities.  At GCI, a valued Land Science® client, Bruce enjoys the satisfaction of working with clients to determine where concerns exist, and then develops and implements workable, cost-effective remedies that satisfy all parties. He achieves optimum results by working closely with real estate developers, property owners, their business partners and regulatory personnel to identify environmental contamination and the appropriate steps to remedy contamination.  Shares Savage, "The goal is always to identify workable pathways to development using remedies that protect human health and the environment, meet regulatory requirements, and ensure future compliance and protectiveness."
The path to a career in remediation
Savage's path to his current position as Vice President, Director of Environmental Services began with his Bachelor of Science in Geology and Mineralogy from The Ohio State University. He followed that up with his Master's in Geological and Earth Sciences/Geosciences from the University of Cincinnati. His academic achievements led to work experience as a field technician and a driller's helper with GCI, nearly 30 years ago, then as an environmental geologist, prior to being promoted to Vice President. In addition, Savage received the Certified Professional designation from the Ohio EPA in 2003. When asked about how he initially chose a career in environmental remediation, he admits that in some ways, his career chose him. Continues Savage, "The truth is, this career found me.  I was fortunate enough to have the right training at the right time, and be in the right place.  Central Ohio has seen an amazing amount of urban revitalization in recent years, and GCI has experienced much of that work." When asked what he enjoys most about his work, he points to the sense of being a difference-maker within his community and surrounding area. "The best part of my job," he says, "Is working on and seeing new development projects and historic preservation happening all around Columbus." And the biggest challenge? "Keeping up with project schedules!"
Residing in German Village, a historic district in Columbus, and a short drive to the GCI offices in Westerville, Ohio (just outside Columbus), Savage enjoys a close association with Land Science® employees, and is a strong advocate of its products as well. "Land Science® has consistently provided timely, effective remediation product solutions," continues Savage. "For the most part, we use Geo-Seal® and Vapor Vent™, due to the fact that most of our sites are urban redevelopment projects where Vapor Intrusion (VI) is a concern. We recommended installation of a VI mitigation system at a former manufacturing site being redeveloped for apartments, and the owner selected the Geo-Seal® and Vapor Vent™ system.  The remedy installation aided in the project receiving a Covenant Not to Sue from the Ohio EPA following our submittal of a No Further Action Letter," Shares Savage.  He continues, "In another instance, we recommended a floor sealing system for VI, and the owner selected the Retro-Coat™ system.  At that site, indoor air contaminant concentrations were either eliminated or significantly reduced."
Keeping pace with the vapor intrusion industry
To keep pace with the ever changing environmental remediation industry, particularly with regard to vapor intrusion, Savage regularly attends Ohio EPA-sponsored courses, and participates in webinars.  Says Savage, "Ohio requires its VAP Certified Professionals to receive at least 12 hours of approved continuing education annually." When it comes to identifying trends within the industry, he points to what he sees as a continued movement toward urban revitalization. "This will require creative solutions for soil, groundwater and vapor intrusion mitigation," he says. "The vapor intrusion to indoor air pathways is receiving significant attention from the business and regulatory communities, and VI mitigation installations are becoming more and more common." And as for what the future may hold for Geotechnical Consultants, Inc., he goes on to say it's about service and solutions. "GCI's philosophy has  always been: provide our clients with great service and practical solutions for a reasonable fee, and in addition, provide our staff with personal and professional growth opportunities."
Married for 35 years, Savage and his wife have three children and two grandchildren who "we enjoy spoiling." When he has time away from his busy work schedule he enjoys learning about history and studying viniculture. He also manages to find time to serve as a Stephen Minister through his church, while supporting Gracehaven, The James Cancer Hospital, and other charities.
Change is inevitable
Since he works in such a fast-paced, industry, Savage realizes that change is inevitable, and says that over the past few decades he's noticed a much higher degree of professionalism in environmental remediation. He concludes, "Since the 1980s the environmental consulting industry has gone from what I would call a sort of "garage-band" field, to a much more sophisticated group of professionals working on solutions to complex human health and regulatory issues."
Land Science® is proud to have Bruce Savage, Vice President and Director of Environmental Services at Geotechnical Consultants Inc., as a valued client and partner in environmental remediation, and appreciates his vast knowledge and experience in providing successful remediation outcomes for Land Science® and its clients.