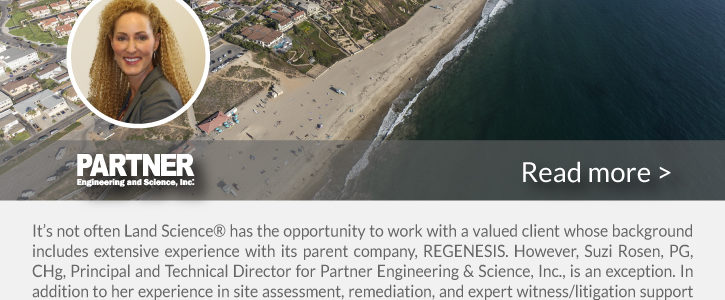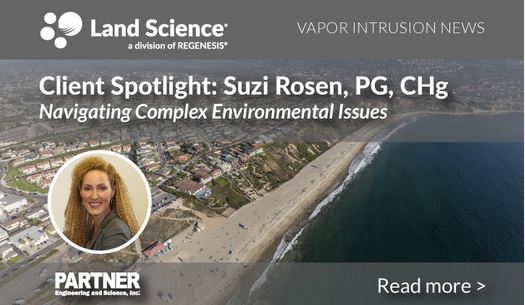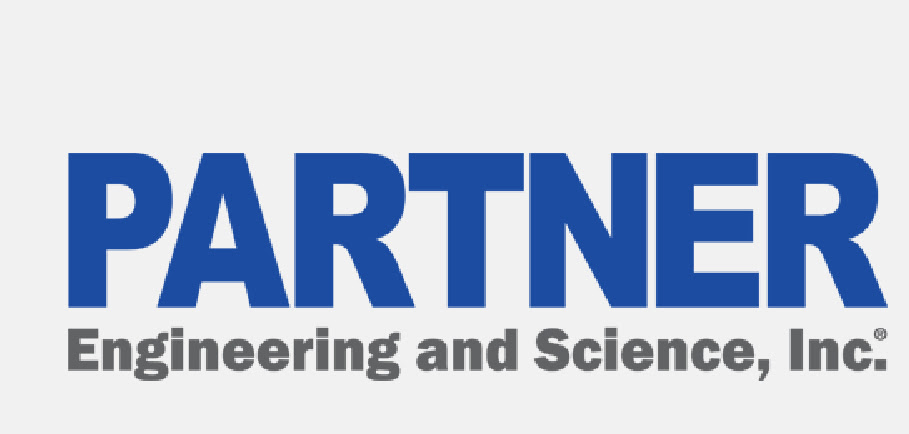 It's not often Land Science® has the opportunity to work with a valued client whose background includes extensive experience with its parent company, REGENESIS. However, Suzi Rosen, PG, CHg, Principal and Technical Director for Partner Engineering & Science, Inc., is an exception. In addition to her experience in site assessment, remediation, and expert witness/litigation support at various consulting firms, Suzi also served with REGENESIS for 3 years as a Southwest District Technical Manager. She shares, "My experience at REGENESIS was very important in my career development, and together with my other experience, helped prepare me for my role with Partner. Currently, my day-to-day responsibilities include serving as a technical resource for projects throughout the country that require some type of regulatory agency interaction or remedial/mitigation action, as well as overseeing and managing projects."

Featured Case Study: TerraShield Protects Future Occupants from Harmful Vapor Intrusion

A large automotive and supply company planned to build its new corporate headquarters on a 4.5-acre brownfield site recently acquired in Southfield, MI. Soil and groundwater sampling on the property revealed the presence of trichloroethylene (TCE) and polynuclear aromatic hydrocarbons (PAHs). TCE was also identified in soil gas beneath the site. Within the footprint of the planned building itself, contaminant concentrations were found to be in excess of applicable indoor air quality screening levels. The developer utilized brownfield funding from the local authority to conduct the necessary environmental remediation measures.
Featured Project Snapshot: Leading Hotel Chain Moves Forward With Brownfield Site Construction Following Installation of Vapor Barrier System
The project site is a modern, climate-controlled self-storage facility that includes all-in-one moving, packing, and storage services for its customers. The building was developed on a former industrial brownfield at the site of a former factory. As part of Maryland's Voluntary Cleanup Program, the environmental consultant completed a Phase II investigation, finding elevated chlorinated solvent contaminants in the soil gas. The Maryland Department of Environment required the installation of a vapor mitigation system over a portion of the building. However, in working with the consultant, it was ultimately determined that a vapor barrier spanning the entire building footprint would be necessary to protect the future building tenants fully. Based on chlorinated solvent concentrations, TerraShield® was specified to provide the highest level of chemical resistance and long-term barrier performance available on the market. The project required active venting and a site-specific design, leveraging Land Science's vapor barrier design expertise. Additionally, the TerraShield vapor mitigation system included an extended material warranty to provide the project stakeholders added assurance that building occupants would be protected long into the future.
Superior Chemical Resistance Over Any Vapor Barrier on the Market Today
When developing properties on sites with known environmental impacts, one of the biggest issues is the risk to human health. Failure to address these issues can result in adverse health effects and millions of dollars in legal exposure. TerraShield was designed specifically to eliminate risk of exposure by employing innovative technologies to provide best-in-class chemical resistance and durability. Backed by a robust warranty and installed by Land Science-certified applicators, each TerraShield installation is rigorously tested to ensure the quality of every seal and ultimately the complete vapor barrier system installed.

Are You a Member of the AVIP? Join Today!

Land Science is pleased to be 2021/2022 Annual Platinum Sponsors for AVIP! The purpose of AVIP is to build a community of professionals dedicated to advancing the industry and providing a forum for informational exchange of knowledge and science related to Vapor Intrusion (VI); as well as establishing a central resource for technology, guidance, standards, credentialing and best practices for both those in the industry and those seeking VI related services.

At Land science, we know many environmental firms are investing time to focus on staff training to get up-to-date on new technologies and regulations. We have prepared a library of pre-recorded webinars available on our website at no charge. Topics include vapor intrusion regulations and mitigation. We will also provide certificates of attendance for any webinar viewed upon request by emailing marketing@regenesis.com.
Have a Vapor Intrusion Project? Get Started Today!
To receive a custom vapor intrusion solution, please call 949.481.8118 or visit landsciencetech.com/contact-us. One of our Technical Solutions Managers will review your project details and provide you with a customized vapor intrusion solution designed to achieve your site goals.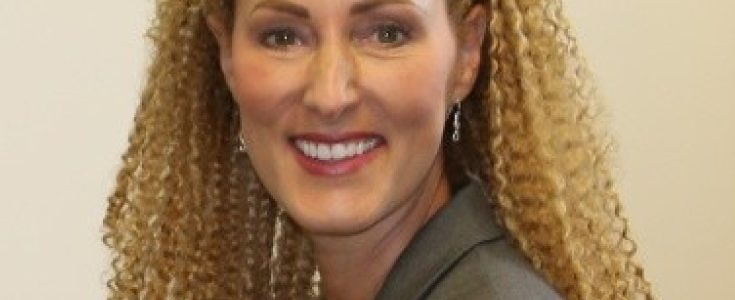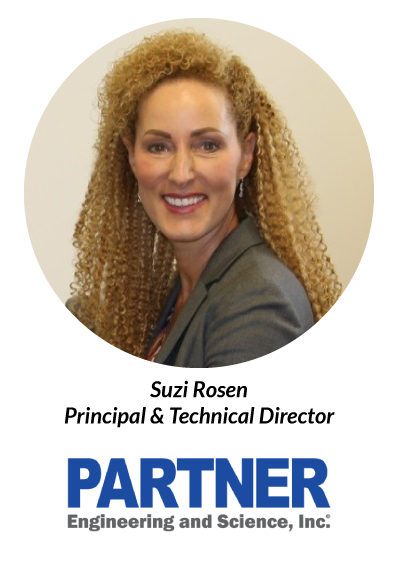 It's not often Land Science® has the opportunity to work with a valued client whose background includes extensive experience with its parent company, REGENESIS. However, Suzi Rosen, PG, CHg, Principal and Technical Director for Partner Engineering & Science, Inc., is an exception. In addition to her experience in site assessment, mitigation, and expert witness/litigation support at various consulting firms, Suzi also served with REGENESIS for 3 years as a Southwest District Technical Manager. She shares, "My experience at REGENESIS was very important in my career development, and together with my other experience, helped prepare me for my role with Partner. Currently, my day-to-day responsibilities include serving as a technical resource for projects throughout the country that require some type of regulatory agency interaction or remedial/mitigation action, as well as overseeing and managing projects." One of the aspects of her work she enjoys most is helping her clients navigate complex environmental issues.  She continues, "Many of my clients are developers, so I work on those projects from the early Phase I Environmental Site Assessment stage all the way through cleanup, soil management, vapor intrusion mitigation, and any regulatory closure that is required. Our group also works on a lot of Remedial Cost Estimates that are part of the various property transactions, of which I'm often involved. I also have the opportunity to perform third-party review and expert opinion work for litigation and cost recovery cases."  To prepare for a career in environmental mitigation, Suzi earned her BS in Geology from California State University, Fullerton (CSUF) and also completed significant graduate course work at California State University Los Angeles (CSULA) and CSUF in geology and contaminate fate and transport.
Now completing her fifth year with Partner Engineering & Science, Suzi appreciates the company's culture and emphasis on professional development, as well as their long-term growth objectives. She continues, "Partner has a corporate level goal to be the best home for talented professionals in our field.  I can say for me personally, they've accomplished that.  Partner continues to grow nationally and around the globe with a focus on providing technical services facilitating all aspects of a property transaction, from pre-acquisition to post-development operation and maintenance.  We are also constantly developing new technologies and processes to increase our efficiency and technical excellence so we can serve our clients in a way that makes their lives easier." To stay abreast of emerging trends and new technologies, Suzi attends industry-focused webinars and training classes- usually several times per month, which are often offered by industry groups like ITRC and various mitigation vendors. She adds, "I participate regularly in technical conferences in California and the mid-west, either as a speaker, moderator, or attendee. Topics are usually around new sampling or assessment technologies, regulatory updates, or industry trends."
With regard to working with Land Science, Suzi appreciates the company's expertise and deep reservoir of technical expertise. She continues, "Land Science is a great resource and partner for vapor intrusion mitigation work.  Their internal technical resources have been extremely helpful, and their network of certified applicators makes projects go smoothly.  The last RetroCoat® project I did was for a warehouse in Los Angeles that was purchased by one of our celebrity clients.  We had a very small window for getting in and installing RetroCoat before the warehouse contents were set to arrive.  If we did not finish in time, they would have to pay for temporary storage, and it would have been a nightmare if the project was delayed. Nick Mjolsness with Land Science found one of their applicators and arranged for the site walk, bidding, product delivery, and installation within about a two-week time frame.  When I was handed this project and told they needed a VI mitigation system put in place within about two weeks, I almost told the client it was impossible, and yet Nick and Jeff Andrews over at Pacific Coast Contracting (applicator) helped me pull it off.  They made me and Partner look great, and the client even got to pick a specialized look for the floor coating." When it comes to specific Land Science product usage, RetroCoat is used most often for existing structures requiring vapor intrusion mitigation. She adds that her team is still learning about the new barrier products being offered by Land Science.
When asked what she enjoys most about her work, Suzi values her role as a knowledgeable resource for her clients. She shares, "I love helping my clients navigate potential or actual environmental issues on a property they are going to redevelop or acquire.  Helping them understand their risk in a way that makes sense to them, so they can make the best business decision, is a unique service and a talent I have cultivated over the years.  When I can help their internal process go smoothly and minimize costs, I find that very rewarding." And the most challenging aspect of her work? "Usually scheduling, since many of our projects are on a very tight timeline. Working within extremely tight time constraints is a regular occurrence and takes a lot of self-management to be able to meet deadlines without sacrificing your own well-being." Established in both southern California and central Michigan, Suzi spends much of her free time as a teacher of Ishayas' Ascension, which she refers to as "meditation for the modern-day world".  "I've been practicing Ascension for nearly 20 years now and can't imagine life without it! I have a cat, Chloe, who keeps me company when I am working from home and should probably be called Shadow, since she is always by my side.  I also like to stay active and love to lift weights, hike, kayak or Stand Up Paddleboard (SUP), ski, explore areas I have not seen before, and spend time with good friends." She also finds time to volunteer for the Humane Animal Treatment Society (HATS).  She shares, "I love dogs as well as cats, but I can't really have a dog since I usually travel a fair amount for work.  HATS gives me an opportunity to spend time helping animals and walking dogs that may otherwise not get any active time outside.  The hardest part is having to take them back to the shelter."
When asked how she's seen the industry change over the years, she points to the increased number of women choosing this field. She concludes, "There are more and more women in the environmental industry now, and it is not viewed as much of an oddity as it was when I first started in the mid-1990s.  It is a little bit less of an "old boy's club" – particularly at a firm like Partner where there are so many women professionals, including at the leadership/executive level. For me, environmental mitigation has been a great career choice and I look forward to what the future has in store."
Land Science is proud to have Suzi Rosen, PG, CHg, Principal and Technical Director for Partner Engineering & Science, Inc., as a valued client and partner, and appreciates her diversified experience and commitment in providing successful vapor intrusion mitigation outcomes for Land Science and its clients.