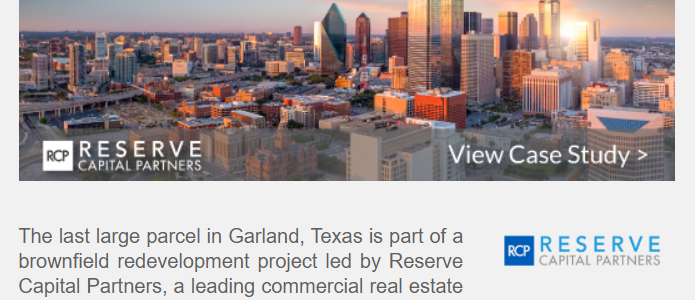 Case Study: MonoShield Composite Metalized Barrier Protects Large Texas Warehouse Against Vapor Intrusion 
The last large parcel in Garland, Texas is part of a brownfield redevelopment project led by Reserve Capital Partners, a leading commercial real estate development company, transforming the former brownfield into valuable warehouse space for future tenants. MonoShield, a composite metalized contaminant vapor barrier, is designed to eliminate any potential for corrosion and includes a reinforcement grid that significantly increases resistance to puncture during construction activities.
Subscribe To Our Monthly Newsletters
Webinar: Risk & Liability – Part 2
This webinar is the second in a two-part webinar series featuring Eric Leitz, Director of Legacy Site Services at RPS Group. His presentation will discuss risk and managing liabilities, taking a look at vapor intrusion. Be sure to register for this webinar airing Tuesday, December 6th, 2022 at 11am pacific / 2pm eastern.
Featured Video: Spotlight on Experience Ryan Miller, East Region Manager
Ryan Miller is the East Region Manager of the Land Science® division of REGENESIS, Inc., and is based on the East Coast. Ryan's role includes providing technical support in the design and installation of Land Science vapor mitigation systems, and educating the environmental community on the advancements in vapor intrusion barrier technology, implementation, and quality control. Ryan has extensive experience in the environmental consulting industry, most recently working as a New Jersey Licensed Site Remediation Professional (LSRP) focusing on brownfield redevelopment projects and specializing in vapor intrusion mitigation.
Video: 5 Reasons Land Science Saves You Time & Money
As a leader in vapor intrusion mitigation, Land Science, a division of REGENESIS, is known for introducing cutting-edge technologies. Our centrally-located warehouse in Gallatin, TN, serving all of North America, is state-of-the-art and our logistics team is ready to fulfill your order to ensure your project remains on time and on budget. Watch the video to learn how Land Science can save you time and money on your next site.
View Our Training Library 
At Land Science, we know many environmental firms are investing time to focus on staff training to get up-to-date on new technologies and regulations. We have prepared a library of pre-recorded webinars available on our website at no charge. Topics include vapor intrusion regulations and mitigation. We will also provide certificates of attendance for any webinar viewed upon request by emailing marketing@regenesis.com.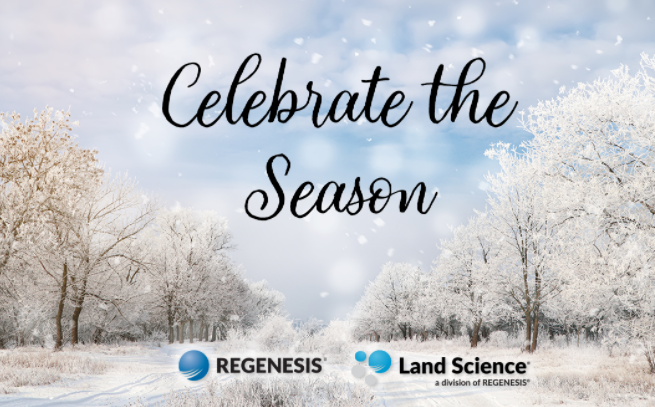 Happy Holidays From Land Science! 
The team at Land Science wishes you and your family a Happy Holidays, and we look forward to working with you in the New Year!
Have a Vapor Intrusion Project? Get Started Today!
To receive a custom vapor intrusion solution, please call 949.481.8118 or visit landsciencetech.com/contact-us. One of our Technical Solutions Managers will review your project details and provide you with a customized vapor intrusion solution designed to achieve your site goals.