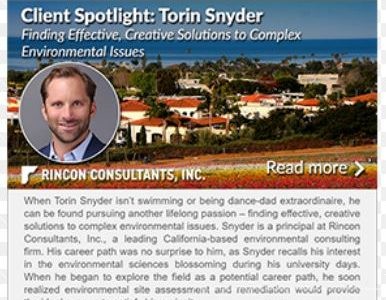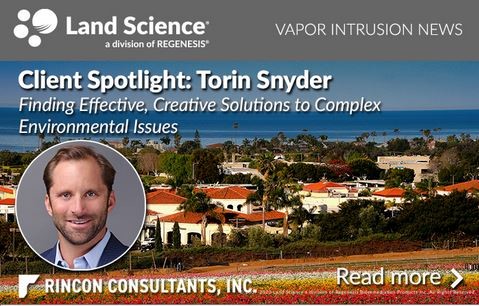 When Torin Snyder isn't swimming or being dance-dad extraordinaire, he can be found pursuing another lifelong passion – finding effective, creative solutions to complex environmental issues. Snyder is a principal at Rincon Consultants, Inc., a leading California-based environmental consulting firm. His career path was no surprise to him, as Snyder recalls his interest in the environmental sciences blossoming during his university days. When he began to explore the field as a potential career path, he soon realized environmental site assessment and remediation would provide the ideal avenue to satisy his curiosity.

Nitra-Seal Applied as Preemptive Vapor Mitigation Solution for National Restaurant Chain

National quick-service restaurant chains are looking for creative, efficient, and cost-effective ways to redevelop brownfield properties. This project development site is a newly opened quick-service restaurant in Conyers, Georgia. Offsite chemical spills from historical operations had resulted in low-level volatile organic compounds (VOCs) released to the subsurface, creating a potential for vapors to intrude into new buildings constructed in the affected area. Recognizing the risk and placing emphasis on future workers' safety, the forward-thinking client decided that a preemptive measure be instituted, requiring the installation of a vapor mitigation system as part of the construction specification.
A Proven Vapor Barrier System Now Improved With Nitrile
Nitra-Seal® is a new advanced nitrile composite barrier system. It represents an update/improvement on current vapor barrier systems. An acknowledged weakness in these systems is in the penetration and perimeter termination locations, where spray-applied core material composed of Styrene-Butadiene Rubber (SBR) latex/asphalt is used. Nitra-Seal offers a substantial upgrade as it employs a more chemically resistant nitrile latex instead of the more susceptible SBR latex. Nitra-Seal is a composite system creating the ideal blend between constructability and chemical resistance by using both high density polyethylene (HDPE) and nitrile-advanced, spray-applied asphalt core. Learn more and download the product brochure below.
Download Brochure: Nitra-Seal Advanced Vapor Barrier
Nitra-Seal employs a chemically resistant nitrile latex. Nitrile is recognized throughout the environmental engineering industry as being chemically resistant and is often used in personal protective equipment when working on hazardous waste sites (e.g. nitrile gloves). Laboratory testing has shown up to 10X higher chemical resistance when compared to any other vapor barrier material on the market. Download the brochure to learn more about Nitra-Seal.
6 Reasons To Specify a VI Barrier Offering the Highest Level of Chemical Resistance

When developing properties on sites with known environmental impacts, one of the biggest issues is the risk to human health. Failure to address these issues can result in adverse health effects and millions of dollars in legal exposure. TerraShield was designed specifically to eliminate risk of exposure by employing innovative technologies to provide best-in-class chemical resistance and durability. TerraShield offers a higher level of protection compared to any vapor barrier system available today. With industry-leading standards for installation along with robust warranty options, there is simply no better option on the market for industrial, commercial, or residential vapor intrusion mitigation. Watch the video to learn more about TerraShield.
Download the eBook to Learn More About Best-In-Class Contaminant Vapor Intrusion Protection

TerraShield is a significant step forward for vapor intrusion barriers. Employing an innovative dual-metalized film technology in combination with a versatile spray-applied nitrile core, TerraShield provides superior chemical resistance over any existing vapor barrier currently on the market. It is the ideal vapor mitigation solution for residential, industrial, and commercial developments with volatile contaminant impacts that represent significant health hazards and economic liabilities. To learn more about the benefits of TerraShield, download the eBook.
Vapor Intrusion Webinar – Recording now available!

In this webinar we are pleased to have a special presentation by Scott Wilson, President & CEO of REGENESIS and Land Science, and Ryan Miller, East Region Manager for Land Science. They discussed the evolution of vapor barrier technology, as well as best practices for successful vapor barrier implementation.
About the Presenters:
---
Scott Wilson
President & CEO, REGENESIS and Land Science
Scott Wilson has extensive experience in the development and application of advanced technologies for groundwater and soil restoration and vapor intrusion mitigation. He is a widely published expert with over 30 years' experience designing, installing and operating a broad range of remediation technologies. Mr. Wilson has expertise in project management and has directed the successful completion of large industrial remediation programs under State and Federal regulatory frameworks. At REGENESIS, on specific projects, he plays an active role in technical oversight and program management to ensure conformance with customer expectations. Mr. Wilson received a M.S. from the University of Texas at El Paso, a B.A. from the University of San Diego and an M.B.A. from the Kellogg School of Management at Northwestern University.Superfund sites.
Ryan Miller
East Region Manager, Land Science
Ryan Miller is the East Region Manager for Land Science®, a division of REGENESIS, Inc. Ryan's role includes providing technical support in the design and installation of TerraShield, Nitra-Seal, MonoShield, Geo-Seal and Retro-Coat vapor mitigation systems, and educating the environmental community on advancements in vapor intrusion barrier technology, implementation, and quality control. Ryan has extensive experience in the environmental consulting industry, most recently working on brownfield redevelopment projects and specializing in vapor intrusion mitigation. Ryan earned a MBA from Montclair State University and a Bachelor of Science degree in Environmental Studies from Siena College.
Visit Us at These Virtual Events!
---

REGENESIS and Land Science will be exhibiting and presenting at the upcoming AEHS 36th Annual International Conference on Soils, Sediments, Water, and Energy – A VIRTUAL CONFERENCE on October 19-23, 2020. Proud to be a major sponsor and feature three session moderators, we look forward to connecting with some of the best in the industry to help advance the science of environmental remediation and vapor intrusion mitigation.
Land Science at AEHS:
---

Ryan Miller
East Region Manager, Land Science
PRESENTER – Vapor Barrier Technology Incorporating Aluminum Film and Nitrile-Modified Asphalt Core Reduces Installation Time by 40%
---
We are excited to announce that REGENESIS and Land Science will be exhibiting at and sponsoring NEBC's Northwest Remediation Conference, a virtual event that is at the forefront of the region's cleanup and property development industry. As a Gold Sponsor and Exhibitor, we look forward to connecting with environmental professionals to discuss the most protective vapor intrusion mitigation technologies available on the market today.
Get Started Today
To receive a custom vapor intrusion solution, please call 949.481.8118 or visit landsciencetech.com/contact-us. One of our Technical Solutions Managers will review your project details and provide you with a customized vapor intrusion solution designed to achieve your site goals.