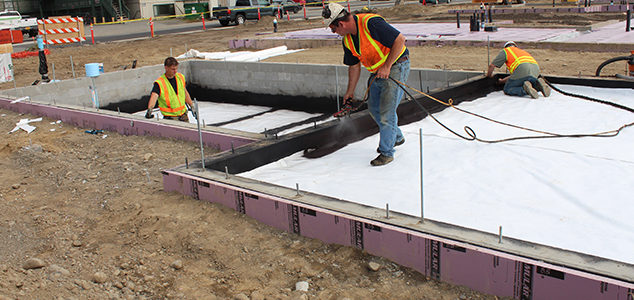 Project Highlights
Approved by Kentucky Division of Waste Management
Approximately 142,000 square feet installed at brownfield site allowing for redevelopment to move forward
Triple layer protection from chlorinated solvent vapors provides safe and reliable barrier for student housing
Project Summary
Student housing was to be constructed in Louisville, KY over 42 acres of vacant Brownfield property. Chlorinated solvents were discovered in the subsurface soil and groundwater beneath the proposed construction area and caused concern over potential indoor air vapor within the housing complex. Terracon Consultants, Inc. specified Geo-Seal® Vapor Intrusion Barrier and Vapor-Vent Trenchless Venting System in their risk management plan.
The Kentucky Division of Waste Management under the Kentucky Department of Environmental Protection evaluated the Geo-Seal vapor barrier along with other membranes and determined Geo-Seal to be an "excellent vapor intrusion barrier system" based on its ability to resist contaminant permeation and breakthrough. 142,000 square feet of Geo-Seal successfully installed.
Download the complete case study
© 2021 All rights reserved. Geo-Seal is a registered trademark of Epro Services Inc.