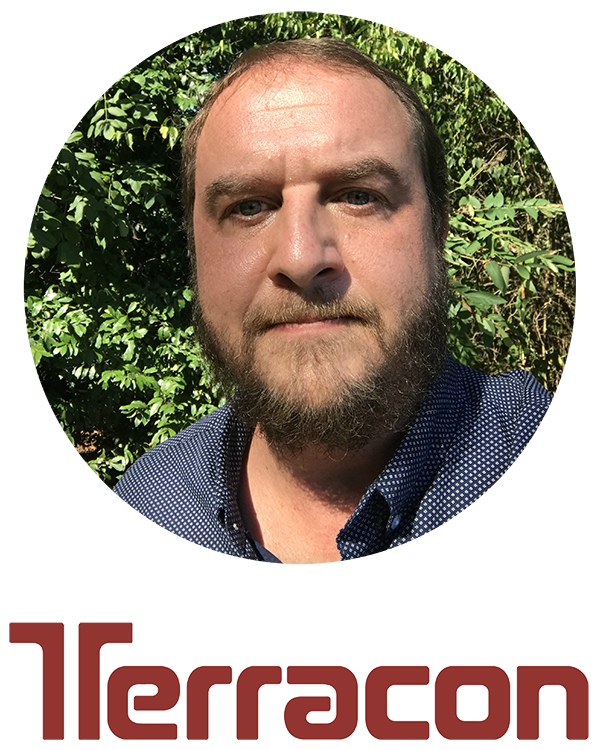 For Matt Hall, Senior Engineer and Senior Project Manager at Terracon Consultants, Inc., a leading environmental consulting and engineering firm and valued REGENESIS client, choosing a career in environmental remediation started with an interest in cleaning up our environment., Once he became immersed in his studies however, he quickly became passionate about the "how-to" aspects that drive the science behind remediation. Shares Hall, "My initial interest soon morphed into a fascination with understanding the science behind the products and the engineering design for remediation implementation." Eventually, Hall's commitment to the earth's environment lead to earning a dual bachelor's degree from Tulane University in Ecology, Evolution, & Organismal Biology (EEOB), and Environmental Studies.  After graduation, he worked as a staff level professional at an environmental engineering firm and worked his way up the ranks before joining Terracon, seven years ago, where he enjoys a diverse range of responsibilities. He continues, "I manage a wide variety of projects near my home office in Tennessee, but also provide support for vapor related projects across the country.  The national work includes consultation regarding vapor intrusion, design of vapor mitigation systems, and ongoing operations and testing of these systems." It's a role Hall enjoys, from both a collaborative and long-term perspective. He continues, "I enjoy the people that I work with, and I continue to take satisfaction from helping Terracon become a national leader in the vapor intrusion and mitigation world."
Working with Land Science to Solve Vapor Intrusion Challenges
When it comes to working with REGENESIS and its vapor Intrusion division, Land Science, Hall appreciates the company's vast array of available products and solutions and knowing their solutions have been researched and proven to be successful in the field. "REGENESIS offers a solid stable of products, and they've put the resources into testing those products," shares Hall. "We've had a number of occasions where we were trying to iron out grey areas in a spec, and REGENESIS stepped up to provide documentation that saved the day." While Terracon Consultants, Inc. uses a variety of REGENESIS products, Hall himself is particularly involved with their vapor mitigation products, such as Geo-Seal®, which is marketed under the company's Land Science® division.  When asked what he considers the best part of his job, Hall points to the day-to-day aspects of providing the most effective solutions for his clients. "I enjoy solving difficult challenges, along with brainstorming and collaborating with some exceptional minds at Terracon.  I also appreciate is the opportunity to mentor younger staff." It's this aspect of working with young environmental engineers that Hall feels will help Terracon Consultants, Inc. continue to thrive in the years ahead. He shares, "Terracon's mission is to deliver success for our employees, clients, and communities.  It's been awesome to watch each of these materialize over the past several years." An employee-owned company, Terracon Consultants, Inc. provides environmental, facilities, geotechnical, and materials services throughout the U.S., and includes over 4,000 employees in more than 140 offices, enabling the firm to provide state-of-the-art services in all 50 states. The company is currently ranked 24th on Engineering News-Record's ENR list of Top 500 Design Firms.
Originally from Tennessee, Hall began his career while living in the San Francisco Bay Area, before relocating back to Tennessee to join Terracon Consultants, Inc.  He lives in Nashville, and as one might guess, loves music, especially live music. He continues, "I'm a big fan of music, and I'm active in the rock and pop scene here in Nashville.  And yes, there is a lot more than just country music in Nashville!  I'm also an avid homebrewer, and probably spend more weekends than I should tinkering with brewing and fermentation equipment."  To stay current in his field of study, Hall regularly attends company-sponsored events through Terracon Consultants, Inc., which often includes panel or roundtable discussions. He shares, "We have practice resource groups (PRGs) within Terracon, which consist of some of our top engineers and geologists in specific sectors of the environmental practice.  I chair the Vapor PRG, and am a member of the Remediation PRG.  These meetings are often a forum where we share new information that we may have learned from conferences, presentations, publications, webinars, regulators, or the "school of hard knocks", from our own unique experiences."
The Future of Remediation and Vapor Intrusion Technologies
When asked what he sees for the future of environmental remediation, Hall feels the burden of culpability and accountability within the industry may be casting a long shadow. "I'm concerned that it is going to be less about science, and more about liability protection in the future.  It's also going to be very interesting to see how the emerging contaminants today (PFAS, PFOA) play out in the municipal water supplies.  Something that prevalent in our society is going to be hard to clean up to the levels that the risk-based models are generating." He also feels the industry will need to adapt to new pollutants and toxins in the future. "I'll be watching to see what happens with emerging contaminants in the coming years, and how the industry as a whole addresses it.  From a soil and groundwater perspective, I think we're going to start to see more risk-based closures with land use restrictions, including vapor mitigation systems.  From a vapor perspective, I think we are going to see more innovation in the testing, operations and maintenance side of mitigation systems." And what suggestions would he have for those considering a career in his industry? "Find a good mentor and really listen to them.  There are few out there that have taught me immeasurable amounts just from having the opportunity to work with them. Listening is key. I'd also suggest a dose of humility with clients.  I've seen too many of my peers try to tell the client what they need, when oftentimes the client is calling to tell you what they need. And lastly, you've got to love to learn, and learn from every failure.  We often work in an environment where we can't see what's below the ground, so things are going to happen that you don't expect.  It takes time to build up a repertoire of enough failures to make you a great remediation engineer."
REGENESIS is proud to have Matt Hall, Senior Engineer and Senior Project Manager at Terracon Consultants, Inc., as a valued client and partner in environmental remediation, and appreciates his wealth of knowledge and diverse contributions in making a difference in successful remediation outcomes for REGENESIS and its clients.