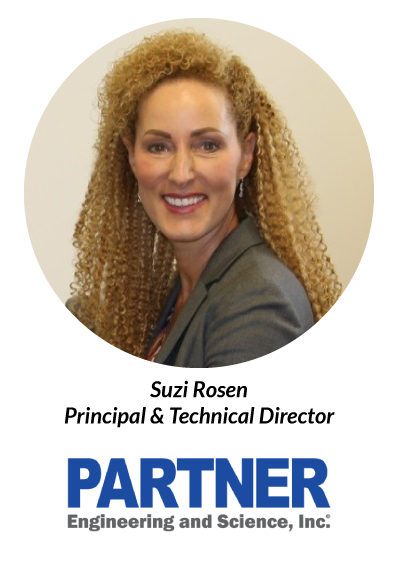 It's not often Land Science® has the opportunity to work with a valued client whose background includes extensive experience with its parent company, REGENESIS. However, Suzi Rosen, PG, CHg, Principal and Technical Director for Partner Engineering & Science, Inc., is an exception. In addition to her experience in site assessment, mitigation, and expert witness/litigation support at various consulting firms, Suzi also served with REGENESIS for 3 years as a Southwest District Technical Manager. She shares, "My experience at REGENESIS was very important in my career development, and together with my other experience, helped prepare me for my role with Partner. Currently, my day-to-day responsibilities include serving as a technical resource for projects throughout the country that require some type of regulatory agency interaction or remedial/mitigation action, as well as overseeing and managing projects." One of the aspects of her work she enjoys most is helping her clients navigate complex environmental issues.  She continues, "Many of my clients are developers, so I work on those projects from the early Phase I Environmental Site Assessment stage all the way through cleanup, soil management, vapor intrusion mitigation, and any regulatory closure that is required. Our group also works on a lot of Remedial Cost Estimates that are part of the various property transactions, of which I'm often involved. I also have the opportunity to perform third-party review and expert opinion work for litigation and cost recovery cases."  To prepare for a career in environmental mitigation, Suzi earned her BS in Geology from California State University, Fullerton (CSUF) and also completed significant graduate course work at California State University Los Angeles (CSULA) and CSUF in geology and contaminate fate and transport.
Now completing her fifth year with Partner Engineering & Science, Suzi appreciates the company's culture and emphasis on professional development, as well as their long-term growth objectives. She continues, "Partner has a corporate level goal to be the best home for talented professionals in our field.  I can say for me personally, they've accomplished that.  Partner continues to grow nationally and around the globe with a focus on providing technical services facilitating all aspects of a property transaction, from pre-acquisition to post-development operation and maintenance.  We are also constantly developing new technologies and processes to increase our efficiency and technical excellence so we can serve our clients in a way that makes their lives easier." To stay abreast of emerging trends and new technologies, Suzi attends industry-focused webinars and training classes- usually several times per month, which are often offered by industry groups like ITRC and various mitigation vendors. She adds, "I participate regularly in technical conferences in California and the mid-west, either as a speaker, moderator, or attendee. Topics are usually around new sampling or assessment technologies, regulatory updates, or industry trends."
With regard to working with Land Science, Suzi appreciates the company's expertise and deep reservoir of technical expertise. She continues, "Land Science is a great resource and partner for vapor intrusion mitigation work.  Their internal technical resources have been extremely helpful, and their network of certified applicators makes projects go smoothly.  The last RetroCoat® project I did was for a warehouse in Los Angeles that was purchased by one of our celebrity clients.  We had a very small window for getting in and installing RetroCoat before the warehouse contents were set to arrive.  If we did not finish in time, they would have to pay for temporary storage, and it would have been a nightmare if the project was delayed. Nick Mjolsness with Land Science found one of their applicators and arranged for the site walk, bidding, product delivery, and installation within about a two-week time frame.  When I was handed this project and told they needed a VI mitigation system put in place within about two weeks, I almost told the client it was impossible, and yet Nick and Jeff Andrews over at Pacific Coast Contracting (applicator) helped me pull it off.  They made me and Partner look great, and the client even got to pick a specialized look for the floor coating." When it comes to specific Land Science product usage, RetroCoat is used most often for existing structures requiring vapor intrusion mitigation. She adds that her team is still learning about the new barrier products being offered by Land Science.
When asked what she enjoys most about her work, Suzi values her role as a knowledgeable resource for her clients. She shares, "I love helping my clients navigate potential or actual environmental issues on a property they are going to redevelop or acquire.  Helping them understand their risk in a way that makes sense to them, so they can make the best business decision, is a unique service and a talent I have cultivated over the years.  When I can help their internal process go smoothly and minimize costs, I find that very rewarding." And the most challenging aspect of her work? "Usually scheduling, since many of our projects are on a very tight timeline. Working within extremely tight time constraints is a regular occurrence and takes a lot of self-management to be able to meet deadlines without sacrificing your own well-being." Established in both southern California and central Michigan, Suzi spends much of her free time as a teacher of Ishayas' Ascension, which she refers to as "meditation for the modern-day world".  "I've been practicing Ascension for nearly 20 years now and can't imagine life without it! I have a cat, Chloe, who keeps me company when I am working from home and should probably be called Shadow, since she is always by my side.  I also like to stay active and love to lift weights, hike, kayak or Stand Up Paddleboard (SUP), ski, explore areas I have not seen before, and spend time with good friends." She also finds time to volunteer for the Humane Animal Treatment Society (HATS).  She shares, "I love dogs as well as cats, but I can't really have a dog since I usually travel a fair amount for work.  HATS gives me an opportunity to spend time helping animals and walking dogs that may otherwise not get any active time outside.  The hardest part is having to take them back to the shelter."
When asked how she's seen the industry change over the years, she points to the increased number of women choosing this field. She concludes, "There are more and more women in the environmental industry now, and it is not viewed as much of an oddity as it was when I first started in the mid-1990s.  It is a little bit less of an "old boy's club" – particularly at a firm like Partner where there are so many women professionals, including at the leadership/executive level. For me, environmental mitigation has been a great career choice and I look forward to what the future has in store."
Land Science is proud to have Suzi Rosen, PG, CHg, Principal and Technical Director for Partner Engineering & Science, Inc., as a valued client and partner, and appreciates her diversified experience and commitment in providing successful vapor intrusion mitigation outcomes for Land Science and its clients.