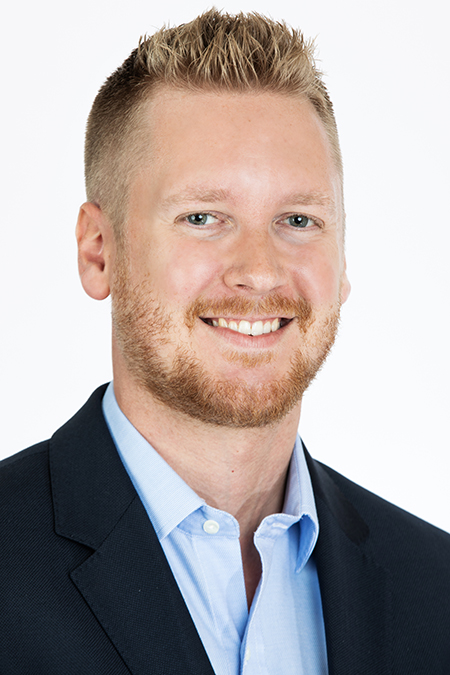 Ask Nick Mjolsness, Central Region Manager at Land Science, what he enjoys most about his work and you'll likely get a response that may leave you a bit envious. By combining travel to many states in the Midwestern US with a skill set that involves treating a wide range of contaminants, Nick is able to combine a hands-on approach to vapor intrusion mitigation while discovering the beauty and diversity of the central US. It's this combination of travel and making a positive impact on our environment that makes him appreciate his profession. "It's extremely rewarding to see an environmental project, such as vapor intrusion mitigation, come to fruition from inception to application," shares Nick. "And I really enjoy traveling. You get a real appreciation for the size of the U.S. when you are visiting multiple states each month."
Love for Travel and the Environment Leads Mjolsness to Land Science
Whether it's discovering a new city or simply moving from point A to point B, Nick is always on the go, moving forward, and it's one reason he chose to pursue a career in vapor intrusion mitigation. Continues Nick, "vapor intrusion mitigation is a dynamic field that is constantly evolving, and Land Science has developed a reputation for leading the way with regards to both science-based solutions and support services." Nick started with Land Science just over two years ago as the South Central District Manager, and worked out of the company's Dallas office. In October of this year he relocated back to the Chicago area, where he graduated from DePaul University. "I'm excited about returning to a part of the country where I grew up. It is a treat to be back in Chicago, however I'll admit I sometimes miss the warmer weather of Dallas!"
Collaborating with Environmental Professionals is Especially Rewarding
When asked what's especially rewarding about his work, Nick points to the gratification that stems from being involved in so many various stages of a project, usually from start to finish. He also enjoys the collaboration of working with various teams at both Land Science and REGENESIS. Nick continues, "I like being involved throughout an entire project. For instance, we did a project recently that was about 18 months in duration, from the time that I became involved. I was able to see the project evolve from the planning and spec phases, to bid phase, and finally to the installation phase. Along the way, I was able to take photographs of the site that we will potentially use in a case study next year. This entire process can be a very gratifying experience because you are able to see your projects materialize from the earliest stage and then be present when Geo-Seal is being applied as the solution." Another aspect of his work he appreciates is when a project he's worked on is selected for a case study. "Creating and sharing a case study allows the project to live on as a potential reference for other clients. Sharing what has been successful on a project can assist other clients with similar project challenges."
Land Science Stands Apart with a Focus on Vapor Intrusion Mitigation Solutions
In the years since joining Land Science, Nick has noticed a shift in the market. One of these is the increased trend toward specialization. Nick continues, "Something unique that Land Science offers is an exclusive focus on vapor intrusion. This specialization helps us see trends in every aspect of VIM." Nick points out that another trend includes a much more conservative approach to handling vapor intrusion. "Lenders, insurance agencies, developers, engineers, you name it- they all want to be sure they are doing as much as they can to effectively mitigate the VI threat. This is a major reason why they come to Land Science. Land Science has developed a reputation for being at the forefront of vapor intrusion mitigation and completing projects to the highest standards."
With so much change occurring within the industry, and specifically in vapor intrusion mitigation, Nick realizes the importance of staying current on the latest trends, regulations, and products. This involves attending and speaking at technical conferences around the country. He recently gave a presentation on vapor intrusion mitigation at the West Virginia Brownfields Conference in Charleston, S.C. in September.
Mjolsness Enjoys Travel, Hiking and Museums
In his free time Nick enjoys traveling, hiking, and touring museums. Thus far he's traveled to Dubai and Oman, as well as Sweden and Norway, where his ancestors originated. For museums, the Museum of Science and Industry in Chicago tops his list.
When asked what it means to work for Land Science, Nick quickly points to the caliber of talented co-workers and the opportunity to work with so many different teams. He concludes, "Working at REGENESIS and Land Science is a chance to work with some of the top people in our field. I also enjoy the highly collaborative approach that comes with working with customer service, sales, marketing, research and development, and the other departments."
REGENESIS is pleased to have Nick Mjolsness, Great Lakes District Manager at Land Science, and values his experience and ability to manage so many different aspects of vapor intrusion mitigation.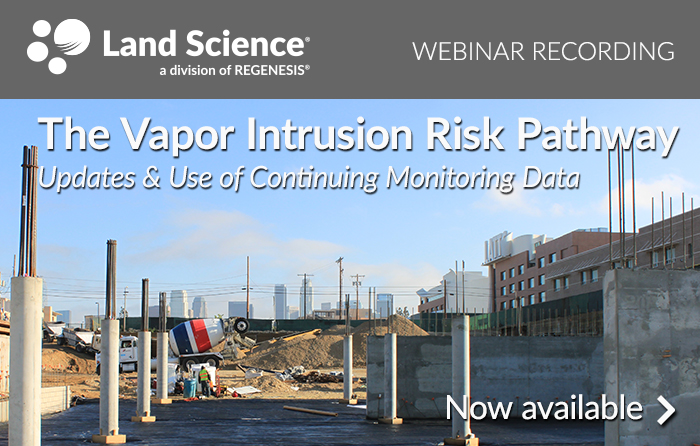 Dr. Blayne Hartman of Hartman Environmental and Dr. Mark Kram of Groundswell Technologies. During this webinar presentation, Dr.s Hartman and Kram discuss updates regarding vapor intrusion pathway issues, as well as the use of continuous monitoring data. Vapor intrusion continues to be a hot topic among environmental practitioners and represents an opportunity in the industry for firms to expand in providing informed and proper VI guidance and best practices for their clients' sites.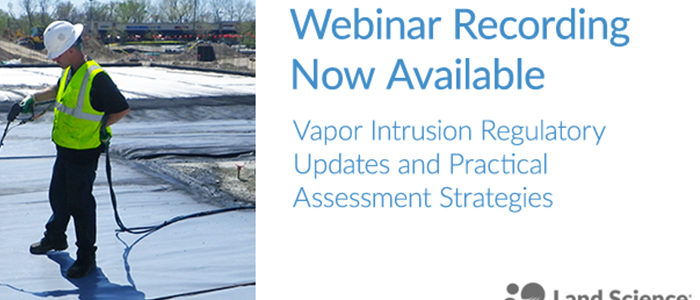 Speakers: Dr. Blayne Hartman, founder of Hartman Environmental Geoscience and Thomas Szocinski, CEP, Director of Vapor Intrusion at Land Science
In this webinar we were pleased to have Dr. Blayne Hartman, nationally recognized vapor intrusion expert and founder of Hartman Environmental Geoscience. Dr. Hartman's orgranization provides Vapor Intrusion, Soil Gas & Analytical Expertise and specializes in VI & Soil Gas Training, Real-Time Continuous Monitoring of TCE & other VOCs in Indoor Air, and vapor intrusion regulatory guidance. His presentation focused on vapor intrusion regulatory updates.
We also had with us Thomas Szocinski, CEP, Director of Vapor Intrusion at Land Science. Mr. Szocinksi shared information about vapor intrusion mitigation technologies for new buildings and existing structures.
Webinar Recording Now Available
Complete the form below to view the webinar recording.