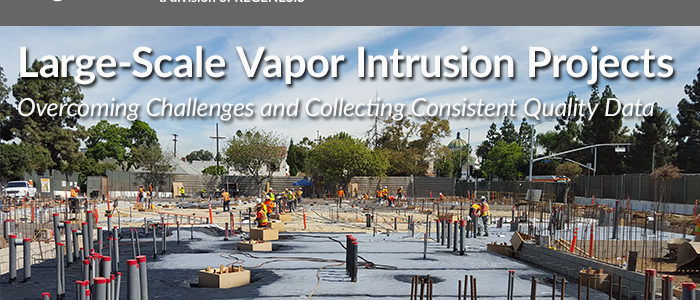 Land Science is pleased to present a webinar with vapor intrusion expert, James Fineis P.G., President and Owner of Total Vapor Solutions. During this webinar presentation, Mr. Fineis discusses large-scale vapor intrusion projects, with a focus on challenges and the necessity of collecting consistent, high-quality data. Mr. Fineis is joined by Jordan Knight, Southeast District Manager at Land Science, who discusses technologies to mitigate vapor intrusion.
Learn the following in this free webinar:
Managing the logistics of handling over 1,000 summa canisters over the life of a project
Challenges in dealing with changing schedules of residents and businesses
How to collect consistent data that is representative of site conditions
The importance of effectively evaulating various mitigation techniques based on the project needs
Cost-effective vapor intrusion mitigation system options
View webinar recording
Complete the form below to view the recording of this free webinar.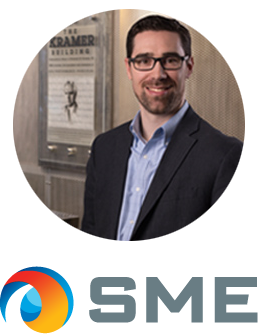 Throughout his 14-year professional career, Mark Quimby, Senior Consultant at SME, a leading regional multi-service engineering and consulting firm and valued Land Science® client, has established himself as a top expert in the field of assessing and mitigating petroleum, chlorinated solvents, and methane vapor intrusion sites. During this time, he has designed and installed dozens of vapor intrusion mitigation approaches inclusive of sub slab passive venting, multiple types of vapor barriers, active sub slab depressurization, and passive interceptor trenches.  In addition, he has secured and managed over $50 million in local, state, and federal incentives that include grants, loans, tax abatements and credits, and tax increment financing. He shares, "Currently, I am responsible for the technical oversight on projects, primarily brownfield redevelopment.  I am also responsible for working with our project managers and staff, and mentoring them as we deliver solutions to our client's problems." His vast experience in his specialized area of environmental remediation stems from an impressive career at SME, where he has risen from a Staff Environmental Specialist to a Project Consultant and then to Senior Project Consultant, prior to being promoted to his current position. His career began shortly after graduating from the University of Windsor, Ontario, where he earned his B.S. in Physics, and it has given him a unique appreciation for seeing the results of his efforts. He shares, "So many sites have no viable liable entity, and without the partnership with communities and developers, the cleanup and redevelopment may never happen.  I've really enjoyed remediation in this context because I get to participate in both the cleanup and the redevelopment of the site."
Although his university studies may not have initially correlated with a career in environmental remediation, Quimby now feels fortunate to be working in a profession that makes a measurable and positive impact on our planet. He continues, "I fell into environmental remediation more than I chose it, but it has been a rewarding field and I'm glad I'm here.  My degree is in physics, but when I immigrated to the US from Canada, I was hired by an environmental consulting firm.  Since then, I've worked on a wide variety of sites and cleanups but have spent most of my time in the context of Brownfield redevelopment." When asked what he enjoys most about his day-to-day work, Quimby is quick to point to a keen sense of satisfaction from seeing his efforts come to fruition. "I enjoy helping to revitalize neighborhoods and communities," he says. "Many communities have vacant and derelict properties that provide little or no value while presenting a nuisance and health risk. It is rewarding to turn these into assets." And what is the most demanding part of his job? "Definitely the pace," he says.  "Every day is different and I need to remain flexible to address my client's needs as they arise."
When it comes to working with Land Science®, Quimby appreciates the firm's level of expertise and timely support, and notes that both routinely contribute to enhancing the efficiencies in his work. He continues, "We have worked on several projects with Land Science®. They provide very good technical depth and they are responsive to our support needs." With regard to specific Land Science® products, MonoShield™ is one that he and SME have recently turned to.  He shares, "We are currently using MonoShield™ for the first time on two projects. One is Liberty Park Commerce Center in Sterling Heights and another is Tri-County Commerce Center in Hazel Park.  MonoShield™ is providing us with the efficiency of a pre-fabricated roll out system and the flexibility of the spray-applied component for seams, penetrations, and transitions." Quimby adds, "This is allowing us to meet our project goals in less time compared to alternative systems." In the past, his teams have also used Geo-Seal® with success, and feels both products have the support infrastructure he needs to ensure successful project outcomes. In addition, he appreciates the collaborative benefits from his company's relationship with Land Science®. He continues, "Land Science® has a reliable network of certified applicators that we have also developed relationships with.  The bottom line is, when working with Land Science®, we know what to expect and have confidence the team will bring the project to a successful conclusion."
Residing in Plymouth, MI with his wife and four children, Quimby works out of the SME corporate office in Plymouth, and on occasion travels to the firm's Detroit and Lansing offices. He also supports staff in the other SME offices in MI, IN, and OH. When he's away from his work, he enjoys reading nonfiction books on science, philosophy, and history, and playing tabletop board and card games.  He shares, "My current favorite reads are the Expeditionary Force series by Craig Alanson.  My favorite card game is Magic the Gathering by Wizards of the Coast, and my favorite board game is Axis and Allies."  To stay abreast of current trends and the latest technology in his field, he attends various training sessions that include formal classes sponsored by ASTM (American Society for Testing and Materials) and EGLE (Michigan Dept. of Environment, Great Lakes, and Energy).  He's also taken the Princeton Groundwater pollution and hydrology course. When asked what the future goals are for SME, he points to continued growth within the Midwestern US. He continues, "We will continue to grow in MI and expand our operations in IN and OH.  Our goal is to be the premier engineering consulting firm in the Great Lakes Mega Region." And what does he see the future holds for environmental remediation? "I feel vapor intrusion mitigation and remediation is the biggest trend.  The country, and Michigan specifically, is trying to get their arms around the Per- and polyfluoroalkyl substances (PFAS) issue as well, but vapor intrusion (VI) will remain a top priority because of its widespread presence and the relevancy of the pathway to human health." When asked why he feels the work he does is important and why he encourages others to join his field, Quimby speaks to the need for commitment in how we treat our environment. He concludes, "We need to care about the future of our cities and developed areas.  It doesn't make sense to use up land and walk away."
Land Science® is proud to have Mark Quimby, Senior Consultant for SME, as a valued client and partner in environmental remediation, and appreciates his expertise and diverse contributions in providing successful remediation outcomes for Land Science® and its clients.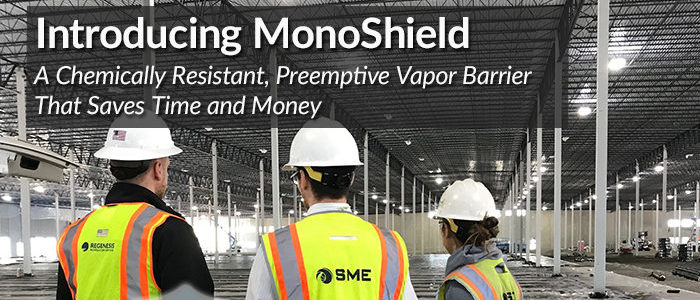 Speakers: Tom Szocinski, CEP, Director of Vapor Intrusion, Land Science and Kristen Thoreson, PhD, Director of Research and Development at REGENESIS and Land Science
Land Science is pleased to present a webinar with vapor intrusion expert Tom Szocinksi, CEP and Dr. Kristen Thoreson, Research and Development Director at REGENESIS and Land Science. During this webinar presentation, they discuss an innovative new vapor intrusion barrier technology called MonoShield. A chemically resistant and easy-to-apply barrier, MonoShield is specifically designed as a preemptive solution for vapor intrusion at brownfield redevelopment sites.
Learn the following about the new technology MonoShield in this free webinar:
MonoShield can be installed 30-40% faster than alternate plastic sheeting or HDPE systems.
MonoShield offers superior durability and chemical resistance.
Competitively priced with simple quick installation
View webinar recording
Complete the form below to view this free webinar.