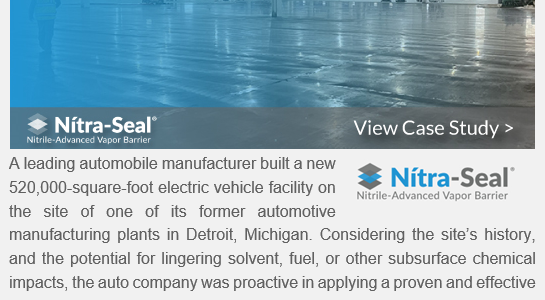 Project Snapshot | Nitra-Seal Ensures Healthy Work Environment at New Electric Vehicle Plant
A leading automobile manufacturer built a new 520,000-square-foot electric vehicle facility on the site of one of its former automotive manufacturing plants in Detroit, Michigan. Considering the site's history, and the potential for lingering solvent, fuel, or other subsurface chemical impacts, the auto company was proactive in applying a proven and effective contaminant vapor intrusion solution to ensure a healthy working environment for its employees. Ultimately, Nitra-Seal® Nitrile-Advanced Contaminant Vapor Barrier with TerraVent™ Low Profile Venting System, was selected by the construction project team, offering the best economic value for the level of VI protection provided.
Subscribe To Our Monthly Newsletters
Product Brochure | Nitra-Seal® Advanced Nitrile Composite Barrier System 
Nitra-Seal employs a chemically resistant nitrile latex. Nitrile is recognized throughout the environmental engineering industry as being chemically resistant and is often used in personal protective equipment when working on hazardous waste sites (e.g. nitrile gloves). Laboratory testing has shown up to 10X higher chemical resistance when compared to any other vapor barrier material on the market.
Business Wire Article | Patented Encapsulated Metalized Film Protects Against Corrosion and Ensures 100x More Chemical Resistance Than HDPE
Recently, Land Science announced its newly patented design encapsulating metalized film in an advanced composite membrane, protecting it against corrosion. This innovative reinforced geomembrane system, which is installed with Nitra-Core, a nitrile-modified asphalt spray coating, provides 100 times more chemical resistance than other solutions. The patented design is integral to the enhanced protection built into Land Science's popular MonoShield and TerraShield contaminant vapor barrier systems.
Webinar Recording Now Available | The Anatomy of a Risk-Based Closure and Litigation Risks 
In this webinar we were pleased to have special guest speaker, leading environmental law expert David Gillay, Partner at Barnes & Thornburg, LLP. His presentation discussed the anatomy of a risk-based closure and litigation risks. He was joined by Jordan Knight, National Sales Manager at Land Science, who discussed innovative vapor intrusion mitigation system technologies.
Welcome to the Team, Jad Soufan!
Land Science is excited to announce Jad Soufan has joined our team as Technical Sales Manager for the Northwest District. Jad is ready to support your next Vapor Intrusion Mitigation project and brings with him his experience at an international construction service company. His background includes estimating projects, construction oversight, and project management, where he gained valuable experience in starting and completing all phases of a construction project. If you would like to speak with Jad to discuss your upcoming project or join us in welcoming him to our growing team, you can contact him at the information below.
Upcoming Webinar | Effective Design and Implementation of Vapor Intrusion Mitigation Systems for New Construction
In this webinar, we are pleased to have special guest speaker Tom Hatton, CEO of Clean Vapor LLC. His presentation will discuss successfully designing and implementing Vapor Intrusion Mitigation Systems (VIMS) for new construction. He will be joined by Jordan Knight, National Sales Manager for Land Science, who will discuss innovative vapor intrusion mitigation system technologies. This webinar will air on Thursday, March 30th, 2023 at 11am PST / 2pm EST.
Have a Vapor Intrusion Project? Get Started Today!
To receive a custom vapor intrusion solution, please call 949.481.8118 or visit landsciencetech.com/contact-us. One of our Technical Solutions Managers will review your project details and provide you with a customized vapor intrusion solution designed to achieve your site goals.