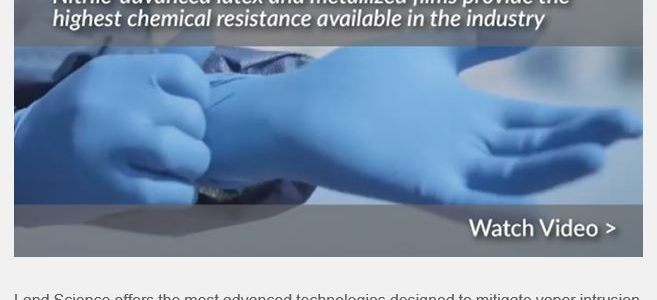 Featured Video: The Science Behind Land Science
Land Science offers the most advanced technologies designed to mitigate vapor intrusion. The use of nitrile-advanced latex and metalized films provides the most protection available in the industry. TerraShield, MonoShield, and Nitra-Seal deliver best-in-class results, including a higher level of chemical resistance and superior constructability. Environmental professionals are also now turning to MonoShield, a new preemptive vapor barrier at large warehouses and brownfield redevelopment sites.
Subscribe To Our Monthly Newsletters
Leading Warehouse Developer Saves Significant Development Time Due to Ease of Installation
The former Hazel Park Raceway was the site of a large warehouse development, located in a designated Opportunity Zone. In the course of evaluating potential remedial options for the 650,000 square foot warehouse facility (Tri-County Commerce Building #2), consulting firm SME approached Land Science, a division of REGENESIS, to incorporate a vapor barrier system to address the harmful vapor intrusion.
The Fastest Vapor Barrier To Install Is Also One of the Toughest
Composed of an innovative metalized film, MonoShield sets the standard for preventing diffusion and permeation of chemical vapors. A nitrile-based asphalt latex that ensures a seal far more effective and easier to apply than tape-based or heat-welded systems, MonoShield offers the best of both worlds, providing developers with a viable long-term solution for reducing liability and protecting human health at a competitive cost.
Client Spotlight: Keith Brodock
Keith Brodock, Principal Engineer with Integral Consulting, Inc., enjoys working with Land Science and he especially appreciates how the company is well-positioned to respond quickly to the changing demands of project and site work. He shares, "It's easy to work with Land Science… they provided accurate estimations and delivered Retro-Coat on time." With regard to Land Science products, he says Retro-Coat is at the top of his list.
10 Reasons To Consider Retro-Coat To Protect Your Property Investment
Vapor intrusion occurs when there is a migration of vapor-forming chemicals from any subsurface contaminant source into an overlying building. When vapor intrusion is detected, it becomes necessary to design a solution to mitigate the problem. Retro-Coat, a chemically resistant coating designed to resist aggressive chemical vapors, is a cost-effective technology with many advantages over alternative options for existing structures and has been gaining popularity and acceptance as an effective vapor intrusion mitigation strategy.
Proven, Cost-Effective Solution for Existing Structures
Developed by the Land Science Research and Development team specifically for existing structures, the Retro-Coat Vapor Intrusion Coating System is a complete product line that consists of chemically resistant materials to properly protect existing structures from the threat of contaminant vapor intrusion. A vapor intrusion condition is most commonly found when the existing structure was operating as, or in close proximity to, a dry cleaner, gas station, or manufacturing facility.
Vapor Intrusion Training Library
At Land Science, we know many environmental firms are investing time to focus on staff training to get up-to-date on new technologies and regulations. We have prepared a library of pre-recorded webinars available on our website at no charge. Topics include vapor intrusion regulations and mitigation. We will also provide certificates of attendance for any webinar viewed upon request by emailing marketing@regenesis.com.
Have a Vapor Intrusion Project? Get Started Today!
To receive a custom vapor intrusion solution, please call 949.481.8118 or visit landsciencetech.com/contact-us. One of our Technical Solutions Managers will review your project details and provide you with a customized vapor intrusion solution designed to achieve your site goals.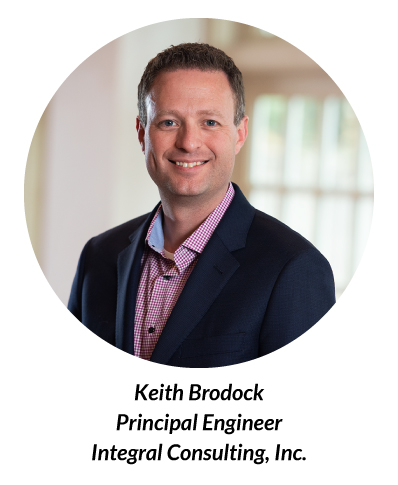 As a Principal Engineer with Integral Consulting Inc., a leading environmental services company and valued Land Science® client, Keith Brodock wears several "hats." He begins, "In addition to my role as Principal Engineer with Integral Consulting, I serve as the President of an affiliated company, Integral Engineering, P.C. where I have responsibility for the operations and direction of that company." Brodock joined Integral Consulting in 2012, as a Managing Engineer. He was promoted to Senior Consultant, prior to promotion in his current position as Principal Engineer. Suffice to say, throughout his tenure at the firm, Brodock has impacted virtually every facet of the company. He continues, "Currently I'm responsible for successful delivery of investigation and mitigation projects, which includes vapor intrusion mitigation design and construction. As a Principal, I serve in multiple states as the engineer in charge of projects ranging from investigation to mitigation design/construction to vapor intrusion mitigation design/construction. I also co-lead our internal Project Management training program and recently served as an advisor to the Executive Committee."
Throughout his 10+ years with the firm, Brodock has strived to optimize what he feels are the company's strengths, while keeping an eye on the firm's long-range goals. He shares, "Our people and their technical expertise are our obvious strengths. I truly feel we can solve any challenge. In fact, in the past year alone we were granted two patents for new technological solutions. And while we have achieved much success, our goals remain unchanged– achievement of sustainable growth through commitment to our clients, health and safety, quality, diversity and sustainability."
To prepare for a career in environmental mitigation, Brodock earned his Bachelor of Science degree in Chemical Engineering from Clarkson University in Potsdam, New York. To stay current with new technologies and emerging trends he adheres to a rigorous schedule of continuing education credits. "I hold professional engineering licenses in 14 states and that alone requires me to take numerous continuing education courses, from engineering, to law, and ethics.  A couple of my favorites were the recent courses I taught on per- and polyfluoroalkyl substances 'PFAS', and on updates to the New York State Brownfield Cleanup Program. Outside of those, I recently took a course on 'Electrical Engineering Principals and Practice for Non-Electrical Engineers'. I've always been interested in electrical engineering design and have used my knowledge of electrical engineering in mitigation control system design/operation."
When it comes to the future of environmental mitigation, Brodock is bullish on the industry's prospects for growth, in part due to the evolving science. He continues, "As science continues to evolve, there will be a need for more mitigation. And as we identify more chemicals that present risk, and as risk level thresholds decrease, I believe there will be a continued need for new mitigation techniques and processes."
Brodock enjoys working with Land Science and he especially appreciates how they are well positioned to respond quickly to the changing demands of project and site work. He shares, "It's easy to work with Land Science. They communicate quickly and are very thorough. Recently, with the supply chain disruptions, it was difficult to plan schedules for a project, but Land Science provided accurate estimations and delivered Retro-Coat® on-time." With regard to specific Land Science products, he says Retro-Coat is at the top of their list. "Hands down, it's Retro-Coat. It's a fantastic product for installing a vapor barrier in an existing building. Most of our vapor intrusion work is in existing buildings, so it's important to have tools that work in existing buildings and that are also accepted by the regulatory community."
In addition to his current work, Brodock and Integral Consulting have been busy developing programs and solutions for their new practices. He points out that Integral Consulting recently started a Natural Resources and Environmental Economics "NREE" and a Water Resources practice. He shares, "Ted Tomasi, Managing Principal and Business Director for the NREE practice, recently released two whitepapers on environmental justice in Natural Resource Damage Assessments (NRDA). And we are also consulting on Environmental, Social and Governance (ESG) matters. We've developed an internal ESG platform and are now taking our experience to other companies who need help in developing their ESG programs."
Residing in Montclair, New Jersey with his wife and two children, Brodock works out of the company's New York City office. Outside of work, much of his free time is spent shuttling his kids to their various activities. He also enjoys applying his knowledge of technology towards home-based solutions which he feels helps make life easier. He shares, "Over the past few years I've developed a home automation system, and I continually add new features to it. A lot of it is focused on security, so I don't want to disclose too much, but let's say that at various times the system checks to be sure the house is secure, and if it's not, the system can either alert me or take its own action to fix the situation. I'll add that it sometimes freaks people out when the house "moves" or "talks"! A non-security automation I've designed allows some of my lights to turn on based on the position of the sun, instead of at a specific time, so the lights always come on at dusk, regardless of the time of year."
When asked how he would encourage others to join his field of study, he feels it's important to provide opportunities for a new generation of those who want to help clean up our planet. He shares, "I believe that by encouraging younger folks to study and develop solutions to current environmental issues, we will naturally grow the industry. As a company, Integral funds academic scholarships for research in the environmental and STEM fields, and several of those scholarships have gone to schools with historically high black student populations."
Land Science is proud to have Keith Brodock, Principal Engineer with Integral Consulting Inc. and President of Integral Engineering, P.C., as a valued client and partner, and appreciates his deep and diversified experience and commitment in providing successful vapor intrusion mitigation outcomes for Land Science and its clients.