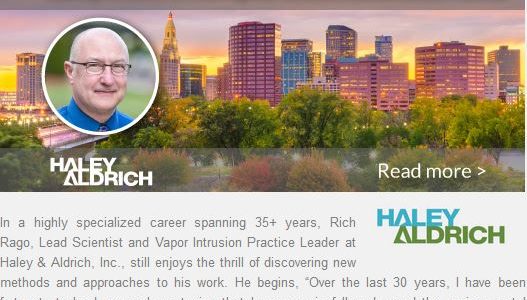 In a highly specialized career spanning 35+ years, Rich Rago, Lead Scientist and Vapor Intrusion Practice Leader at Haley & Aldrich, Inc., still enjoys the thrill of discovering new methods and approaches to his work. He begins, "Over the last 30 years, I have been fortunate to lead research on topics that have meaningfully advanced the environmental practice." Rago started his career with Haley & Aldrich in 1991. The company is a national environmental and geotechnical engineering firm, headquartered in Massachusetts.
Featured Publication: Indoor air background levels of VOCs and air-phase petroleum hydrocarbons in office buildings and schools
Richard Rago, Senior Associate at Haley & Aldrich, is the lead author of a new article in Groundwater Monitoring & Remediation. U.S. Environmental Protection Agency (EPA) and the Massachusetts Department of Environmental Protection provided input on the anonymous study's design, which included the collection of 25 school building samples and 61 office building samples. The study identified some volatile organic compounds (VOCs) ubiquitously in indoor air background, and some at concentrations which exceeded risk-based regulatory screening levels.
Featured Video: Spotlight on Experience
Ryan Miller, East Region Manager
Ryan Miller is the East Region Manager of the Land Science® division of REGENESIS, Inc., and is based on the East Coast. Ryan's role includes providing technical support in the design and installation of Land Science vapor mitigation systems, and educating the environmental community on the advancements in vapor intrusion barrier technology, implementation, and quality control. Ryan has extensive experience in the environmental consulting industry, most recently working as a New Jersey Licensed Site Remediation Professional (LSRP) focusing on brownfield redevelopment projects and specializing in vapor intrusion mitigation.
Featured Project Snapshot: A Growing Manufacturing Company Brings New Jobs to Lansing Area following Retro-Coat Treatment
A growing manufacturer looking to expand its operations purchased a vacant industrial facility in Lansing, Michigan, where chlorinated solvents were used and spilled into the subsurface. The environmental consultant was asked to address the suspected vapor intrusion concerns resulting from the former industrial operations. In working with the Michigan Department of Environment, Great Lakes & Energy (EGLE), the consultant proposed utilizing the Retro-Coat® Vapor Intrusion Coating System, in combination with passive venting, to ensure safe indoor air for the future workers. Learn more by downloading the Project Snapshot.
Developed by the R&D Team at Land Science, the Retro-Coat system is the most appropriate coating technology for vapor intrusion protection. The Retro-Coat Vapor Intrusion Coating System is a complete product line that consists of chemically resistant materials to properly protect existing structures from the threat of contaminant vapor intrusion. A vapor intrusion condition is most commonly found when the existing structure was operating as, or in close proximity to, a dry cleaner, gas station, or manufacturing facility.
Featured Article: 10 Sustainable Green Tech Companies, 2021
While several new players are emerging in the environmental remediation market over the past few years, companies such as REGENESIS have been providing leading-edge environmental remediation solutions since 1994. The company is a global leader in the research, development, and commercialization of technology-based solutions for the environment. It specializes in providing scientifically proven product and service-based solutions for groundwater and soil remediation at contaminated sites. Learn more by reading the featured article.
Featured Project Snapshot: Brownfield Redevelopment Makes Way for Mixed-Use Property in Nation's Capital
The former brownfield site was targeted for redevelopment in the nation's capital. The project is a 32,000 square feet mixed-use development in the heart of Washington, D.C. The environmental consultant specified the MonoShield® vapor barrier system with passive venting as a proactive step to prevent vapor intrusion of low-level petroleum hydrocarbon vapors. The MonoShield vapor barrier system was included in the site's Corrective Action Plan and was approved by the Department of Energy and Environment prior to its installation.
MonoShield: A Vapor Barrier System that Delivers on Safety and the Bottomline
MonoShield is a chemically resistant and easy-to-apply barrier specifically designed as a preemptive solution for vapor intrusion at brownfield redevelopment sites. It is backed by unparalleled design support, robust warranty options, and a network of certified applicators who can ensure quality installation.
AIPG 9th Conference on: Innovative Environmental Assessment and Remediation Technology
10/5 – 10/6/2021, Kennesaw, GA
Visit conference website
37th Annual International Conference on Soils, Sediments, Water, and Energy
10/18 – 10/21/2021, VIRTUAL
Visit conference website
Have a Vapor Intrusion Project? Get Started Today!
To receive a custom vapor intrusion solution, please call 949.481.8118 or visit landsciencetech.com/contact-us. One of our Technical Solutions Managers will review your project details and provide you with a customized vapor intrusion solution designed to achieve your site goals.