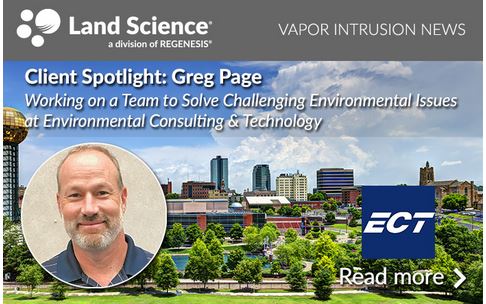 For Greg Page, Senior Engineer with Environmental Consulting & Technology, Inc. (ECT), working as a team to solve challenging environmental issues is a daily reminder of why he chose to pursue a career in bioremediation. He shares, "To partner with a client as a team versus just being a hired vendor is very satisfying. A true partnership facilitates a thorough understanding of stakeholder objectives, the ultimate end use of the property, and knowing the community impact leads to effective evaluation of remedial technologies so that the proposed application solves the right problem." Learn more in our client spotlight.

Retro-Coat 101 Webinar – Now Available!

Land Science is pleased to present a webinar with vapor intrusion technical expert, Hieu Nguyen. Mr. Nguyen is the Senior Technical Engineer for Land Science and in his role is responsible for product development and training on all Land Science vapor intrusion technologies. In this webinar, he will provide an in-depth overview of the Retro-Coat vapor intrusion system along with tips on best practices when applying Retro-Coat for existing structures.
About the Presenter:
---
Hieu Nguyen
Senior Research Engineering, Land Science
Hieu Nguyen is the Senior Research Engineer of the Land Science division of REGENESIS, Inc. In his role, Nguyen oversees product implementation at construction sites and provides technical support to regional and district managers as well as Land Science clients. Hieu offers over nine years of experience supporting Brownfield redevelopment project designs, specifications and installations across United States, Canada and Australia. He is also an active member of the ITRC Petroleum Vapor Intrusion task group, AICHE and ASTM D04 Asphalt Emulsions Tests and Specifications.

MonoShield is a chemically resistant and easy-to-apply barrier specifically designed as a preemptive solution for vapor intrusion at brownfield redevelopment sites. It is backed by unparalleled design support, standard industry warranty, and a network of certified applicators who can ensure quality installation. To learn why developers are increasingly turning to MonoShield for a fast and cost-effective preemptive vapor mitigation solution, download the brochure.
5 Reasons to Consider a Preemptive Vapor Barrier to Protect Your Property Investment
Historically, easily-punctured thin-mil plastic sheets or inflexible and difficult-to-seal High Density Polyethylene (HDPE) Barriers were the only option for vapor mitigation at large warehouses or sites where regulatory requirements were not a driving risk factor. These solutions offered either chemical resistance or constructability, but not both. Composed of an innovative, metalized-film, MonoShield sets the standard for preventing diffusion and permeation of chemical vapors. Its nitrile-based asphalt latex ensures a seal far more effective and easier to apply than tape-based or heat-welded systems. Download the ebook to learn more.
Upcoming Vapor Intrusion Webinar – Sign Up Today!

In this webinar we are pleased to have a special presentation from Jessica Law, PG, Engineering Geologist and Case Manager for the Santa Ana Regional Water Quality Control Board. This presentation will discuss a case study outlining the largest residential vapor intrusion investigation in California at the site of a former aerospace manufacturer. Joining Ms. Law will be Thomas Szocinski, CEP, Land Science Director of Vapor Intrusion, who will share effective approaches to mitigating vapor intrusion on sites like the one discussed in the featured case study. This free webinar begins Tuesday, June 23rd, 2020 at 11am pacific/2pm eastern.
Get Started Today
To receive a custom vapor intrusion solution, please call 949.481.8118 or visit landsciencetech.com/contact-us. One of our Technical Solutions Managers will review your project details and provide you with a customized vapor intrusion solution designed to achieve your site goals.