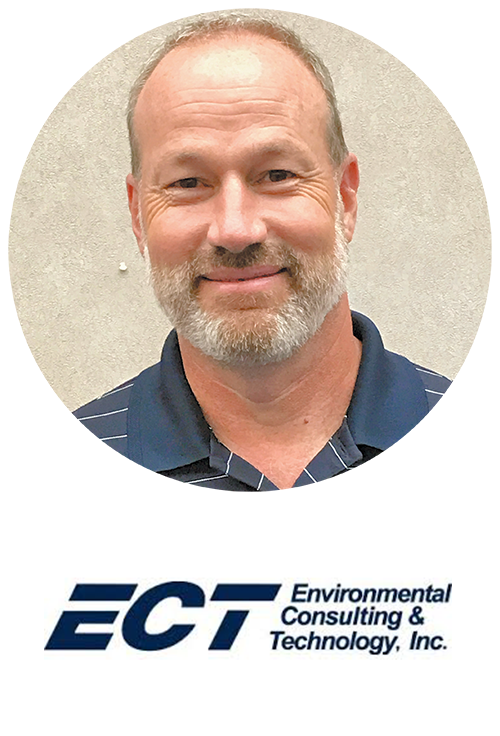 For Greg Page, Senior Engineer with Environmental Consulting & Technology, Inc. (ECT), a valued Land Science® client, working as a team to solve challenging environmental issues is a daily reminder of why he chose to pursue a career in bioremediation. He begins, "To partner with a client as a team versus just being a hired vendor is very satisfying. A true partnership facilitates a thorough understanding of stakeholder objectives, the ultimate end use of the property, and knowing the community impact leads to effective evaluation of remedial technologies so that the proposed application solves the right problem." Greg's commitment to his work and, more specifically, to fostering collaborative client relationships, spans 30+ years. He began his career in 1989 as a Remediation Engineer with a regional environmental services company, before joining a global design and consultancy in 2006 as a Resource Manager. He was promoted to Operations Leader in 2012, and later joined ECT in 2015 in his current role.
He continues, "I work with project managers to develop remedial alternatives to meet client objectives and satisfy regulations.  Holistic planning is paramount in our approach, and seeing properties returned to beneficial use is satisfying." Greg's initial interest in environmental remediation was sparked, in part, by the experience he had while working during the summer with his best friend's mother, who happened to be an independent geologist.  "After seeing the results of assessment through cleanup at some petroleum sites, I was hooked," he says. He subsequently decided to focus his university studies on the environment as well as civil planning, attending Tennessee Technological University, where he graduated with a BS in Civil Engineering.
Although he possesses three decades of experience in his field, Greg realizes the industry is constantly evolving. Understanding the importance of staying current on new technology and emerging trends, he makes an effort to regularly attend webinars, presentations and conferences to share and learn new applications and remedial strategies.  He continues, "Land Science Webinars, along with other technology leaders, have been extremely beneficial, and it is always refreshing to see new applications in different situations.  The recent webinar entitled "RetroCoat 101" was especially helpful in explaining options to regulators on a South Florida project." When asked why he enjoys working with Land Science, Greg points to the company's vast expertise in solving vapor intrusion challenges.  He explains, "Their approach to design and application is straightforward, which facilitates smooth communication to clients and regulators.  We recently installed TerraShield® at an expanding car dealership in South Florida and Land Science integrated the solution within a tight construction schedule that exceeded the client's expectations. Historically, we have used Geo-Seal at most of our brownfield and new construction sites requiring vapor mitigation." When asked what he sees the future hold for environmental remediation, he points to the likelihood of further adoption of risk-based solutions.  He shares, "While applicable in some cases, the resources spent to remediate some sites to low concentration levels can be high.  In addition, future use evaluations can create lost opportunities to utilize those resources for better and higher use." He also realizes that while there is much about his work he enjoys, he concedes there are challenges. "We are constantly balancing project completion demands with internal continuous improvement and training opportunities.  This creates a healthy tension that can be demanding, but with focus and discipline, the work can be rewarding."
Residing in Knoxville, TN, where he works out of one of ECT's 22 offices, Greg enjoys his time away from work. "I have two grandsons," he shares. "From hunting to dirt bikes to fishing, they keep me pretty busy, on the farm."  Barbecuing, mountain biking, kayaking, and hiking are especially high on the list.  He adds, "We are also fortunate to live close to the Great Smoky Mountains and Big South Fork." When asked how he's seen the industry change over the years, he feels complete site restoration may not be practical in every situation. He shares, "Over the course of the last 30 years, the remediation industry has recognized that returning a contaminated site to its original state is often neither necessary nor possible, and often limited by financial resources.  Fortunately, the industry and regulators have responded with risk-based applications, including vapor barriers, that allow many long-time blighted properties to return to beneficial reuse." And how would he encourage others to join his field of study? He concludes, "I would suggest seeking out internships and meetings with industry experts, both managerial and technical, to understand the many aspects of environmental engineering and remediation. From there, one can decide which particular area is of most interest.
Land Science is proud to have Greg Page, Senior Engineer with Environmental Consulting & Technology, Inc., as a valued Land Science® client, and appreciates his wealth of experience and dedication in providing successful remediation outcomes for Land Science and its clients.