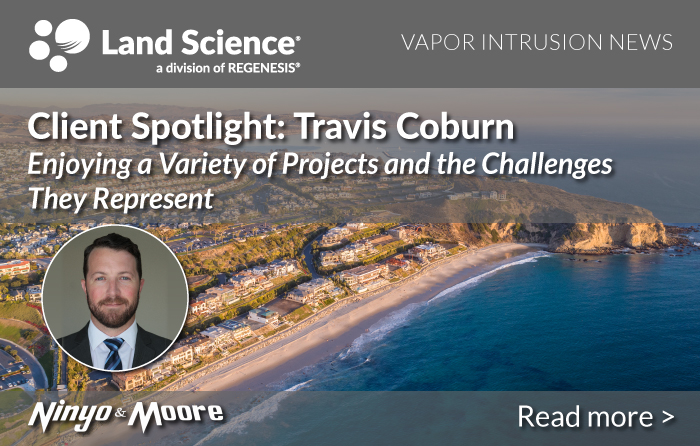 When Travis Coburn, Senior Engineer for Ninyo & Moore, set his sights on a career in environmental remediation, the diverse range of responsibilities he would assume became a pleasant surprise. He begins, "As an environmental engineer, my emphasis has been on environmental compliance, but it allows me to enjoy a variety of different aspects within my field. These include contaminated site investigation, remedial system design and installation, treatment system startup, and operation and maintenance." In addition to these specific responsibilities at Ninyo & Moore, a leading geotechnical and environmental sciences consulting firm and valued Land Science® client, he works on a variety of projects as well.

Last Chance to Register – Free Webinar With Jim Fineis Thursday, March 25th 11am PST / 2pm EST!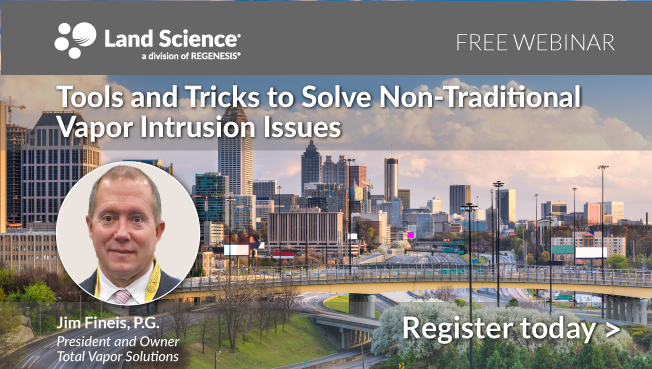 About the Presenters:
---
Jim Fineis, P.G.
President and Owner, Total Vapor Solutions
Jim is the President and owner of Total Vapor Solutions. In addition, Mr. Fineis is an instructor in Hartman Geosciences "Practical Guide to Vapor Intrusion" 2 day course. The training has been given to over 20 regulatory agencies and over 500 students. Additionally, Mr. Fineis speaks at various vapor intrusion conferences each year.
Prior to opening Total Vapor Solutions, Mr. Fineis was the President and owner of Atlas Geo-Sampling Company. Atlas was an integrated geosampling and drilling firm located in Atlanta, GA. Mr. Fineis has been responsible for all aspects of P/L, business development and operations since starting Atlas in 2004. In addition to the responsibilities with Atlas, Mr. Fineis is a Professional Geologist (ASBOG) with certification in Georgia and Florida, and over 20 years' experience in the environmental services industry.
Aimee Plowman
Southeast District Manager, Land Science
Aimee Plowman is the Southeast District Manager of the Land Science® division of REGENESIS, Inc., and is based in Atlanta, Georgia. Aimee's role includes providing technical support in the design and installation of TerraShield, Nitra-Seal, MonoShield and Retro-Coat vapor mitigation systems, and educating the environmental community on the advancements in vapor intrusion barrier technology, implementation, and quality control by making presentations to environmental firms, regulatory agencies, and developers. Aimee received a Master of Science in Geology and a Bachelor of Science in Geology from the University of Oklahoma in Norman, Oklahoma. In her free time, she enjoys a variety of outdoor activities such as hiking, running, fishing, and going to the beach.
Are you a member of the AVIP? Join today!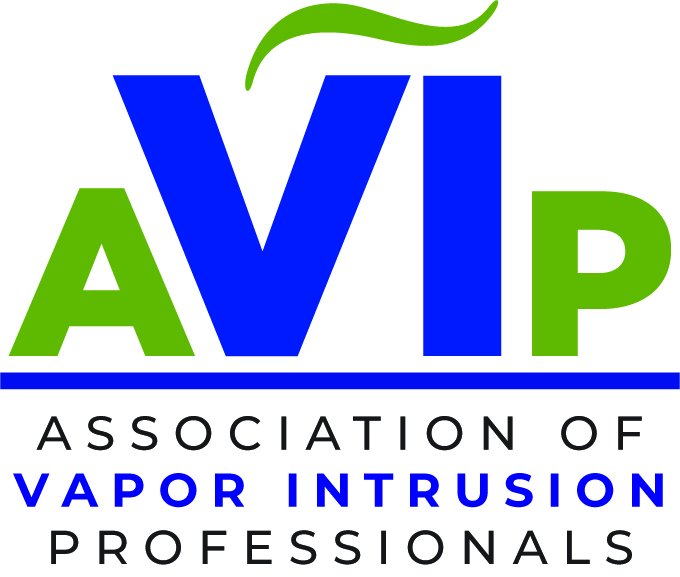 Land Science is pleased to be 2021/2022 Annual Platinum Sponsors for AVIP! The purpose of AVIP is to build a community of professionals dedicated to advancing the industry and providing a forum for informational exchange of knowledge and science related to Vapor Intrusion (VI); as well as establishing a central resource for technology, guidance, standards, credentialing and best practices for both those in the industry and those seeking VI related services.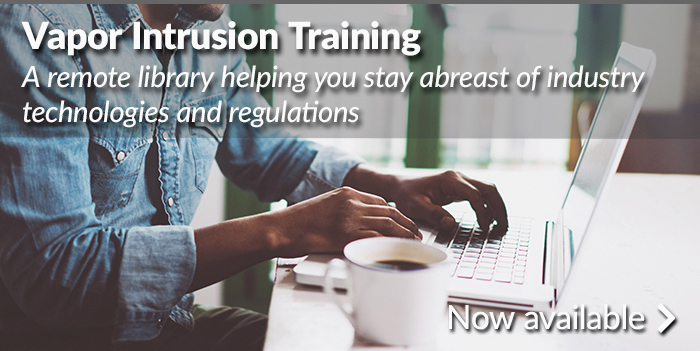 At Land Science, we know many environmental firms are investing time to focus on staff training to get up-to-date on new technologies and regulations. We have prepared a library of pre-recorded webinars available on our website at no charge. Topics include vapor intrusion regulations and mitigation. We will also provide certificates of attendance for any webinar viewed upon request by emailing marketing@regenesis.com.

Nitra-Seal Applied as Preemptive Vapor Mitigation Solution for National Restaurant Chain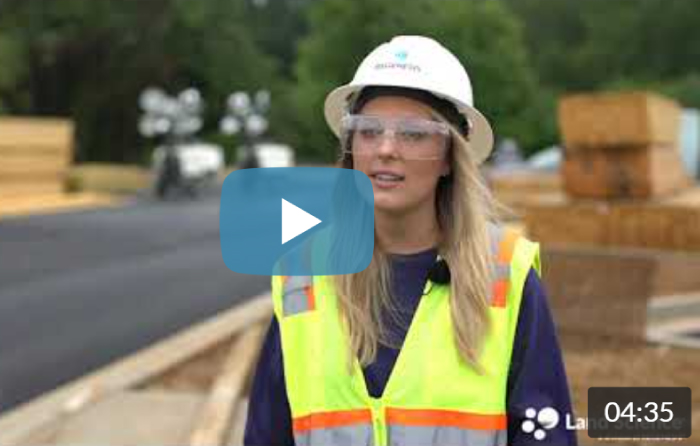 This project development site is a newly opened quick-service restaurant in Conyers, Georgia. Offsite chemical spills from historical operations had resulted in low-level volatile organic compounds (VOCs) released to the subsurface, creating a potential for vapors to intrude into new buildings constructed in the affected area. Recognizing the risk and placing emphasis on future workers' safety, the forward-thinking client decided that a preemptive measure be instituted, requiring the installation of a vapor mitigation system as part of the construction specification.

Introducing a New Advanced Nitrile Composite Barrier System

Nitra-Seal is an update/improvement on current vapor barrier systems. Originally, passive vapor barrier systems were waterproofing systems adapted for use as contaminant vapor barriers. An acknowledged weakness in these systems is in the penetration and perimeter termination locations, where spray-applied core material composed of Styrene-Butadiene (SBR)- modified asphalt is used. While excellent at repelling water, aggressive chemicals such as petroleum solvents and chlorinated volatile organic compounds (VOCs), will permeate into the SBR-modified asphalt at a relatively high rate particularly in sensitive areas of the building construction. Nitra-Seal offers a substantial upgrade as it employs a more chemically resistant nitrile latex instead of the more susceptible SBR material. Nitrile is recognized throughout the environmental engineering industry as being more chemically resistant than rubber or SBR and is often used in personal protective equipment when working on hazardous waste sites (e.g. nitrile gloves).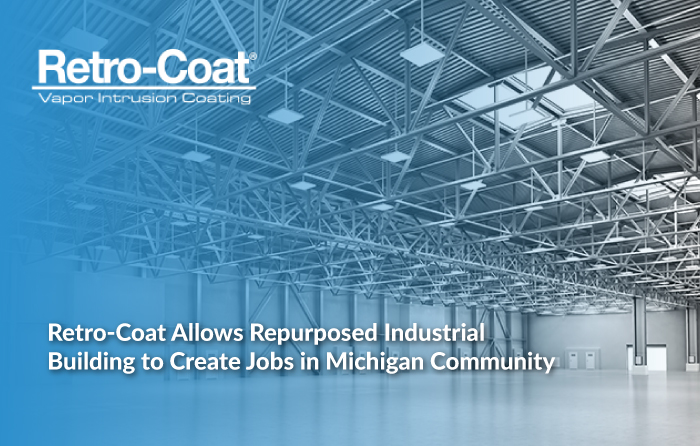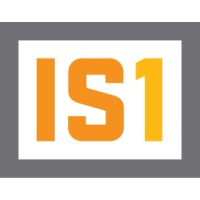 A growing manufacturer looking to expand its operations purchased a vacant industrial facility in Lansing, Michigan, where chlorinated solvents were used and spilled into the subsurface. The environmental consultant was asked to address the suspected vapor intrusion concerns resulting from the former industrial operations. In working with the Michigan Department of Environment, Great Lakes & Energy (EGLE), the consultant proposed utilizing the Retro-Coat® Vapor Intrusion Coating System, in combination with passive venting, to ensure safe indoor air for the future workers.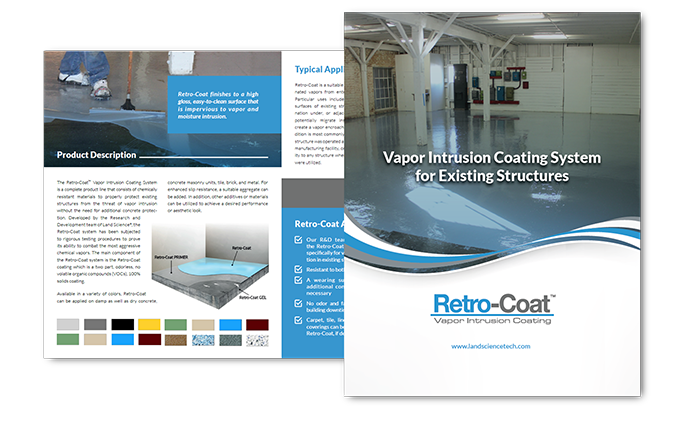 The Retro-Coat Vapor Intrusion Coating System is a complete product line that consists of chemically resistant materials to properly protect existing structures from the threat of vapor intrusion without the need for additional concrete protection.

Have a Vapor Intrusion Project? Get Started Today!
To receive a custom vapor intrusion solution, please call 949.481.8118 or visit landsciencetech.com/contact-us. One of our Technical Solutions Managers will review your project details and provide you with a customized vapor intrusion solution designed to achieve your site goals.