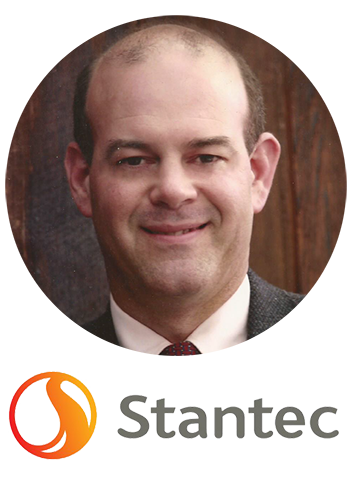 Ask Mario Sternad, Senior Engineer with Stantec Consulting Services, Inc., a global environmental services company and valued Land Science® client, what he enjoys most about his work and it will quickly become apparent that he draws immense satisfaction from providing effective and energy efficient solutions to address contaminants in our ever-changing environment. He shares, "Suffice to say, I love the technical and chemical aspects of my work. In-situ technologies has always been something of great interest to me- how soil, soil-vapor and groundwater contaminants move, are treated, and managed in the ground. Plus, the fact that there are always new products being developed that can make our lives simpler, make systems more reliable, and provide energy efficient ways to control chemicals in our environment is also exciting." A 36-year veteran in engineering and environmental sciences, Sternad joined Stantec 17 years ago, first as a Safety Manager, and then as Project Manager, prior to being promoted to his current position. In his current role, he serves as a Remediation Subject Matter Expert in the Environmental Services Division of Stantec's Walnut Creek, CA office. His day-to-day responsibilities include in-situ cleanup technologies for soil vapor, soil, and groundwater, as well as vapor intrusion and vapor barrier design. He continues, "More specifically, I prepare RIFS, RAPs and WPs for soil and groundwater remediation of VOCs, chlorinated solvents, hydrocarbons, petroleum, metals, and pesticides." In addition, Sternad acts as a Stantec design lead and advisor during field work and construction, system and process development, equipment design, and other project related matters.
Throughout his career Sternad has worked on a variety of projects which include various refineries, coastline and beach cleanups, landfills, government sites, and a broad range of industrial sites. To prepare for a career in environmental sciences, he earned his BS in Chemical Engineering from the University of California Berkeley, and followed that with a CA CHE Professional Engineer Certification, and then a CA Civil Engineering Certification. He adds, "I have also been an active AIChE NorCal Section Member/Director since 1984." When asked how he chose a career in environmental remediation, he says the technical aspects are what initially attracted him. He shares, "I was looking for an atmosphere of technical expertise to further my engineering knowledge. In environmental consulting, I liked the idea of multiple disciplines involved in soil and groundwater cleanup technologies, along with the unique, difficult, and complex solutions being used, and the need for chemical engineering expertise in the design, application, and equipment operation."
With regard to working with Land Science, Sternad feels the company's products, commitment to service, and knowledge base help set them apart.  He continues, "Land Science has been, and continues to be, a dependable partner, offering outstanding products and expert engineering expertise, solutions, documentation, flexibility, and accurate and comprehensive procedures for installation of vapor barriers. We recently prepared a vapor barrier for a large office warehouse that required a unique solution to add and compact four feet of soil over the top of the vapor barrier in an expedited manner. This required using large scrapers, rollers, and bottom dumps, and resulted in faster application and easier vapor barrier installation below future building utilities, as well as added protection from volatiles in shallow groundwater. We successfully tested a small area first with Land Science's involvement to see if this would work without damaging the vapor barrier." Sternad is currently designing solutions using TerraShield® and TerraVent® products as preferred vapor intrusion solutions. "These products offer reduced vapor permeation rates, flexibility with application thickness, ease of application and testing, and an enhanced warranty that meets our project requirements. I also appreciate that Land Science provides their technical expertise during the design, application and testing of TerraShield."
Residing in the San Francisco Bay area with his wife of 27 years and two adult children, Sternad spends approximately 20% of his time traveling to various project sites. Outside of work, he enjoys playing the trombone, mountain climbing, and working on cars. He shares, "I've been playing trombone for some 50 years in local symphony orchestras, symphonic bands, marching bands, jazz bands, and small instrumental groups.  I currently play with various big bands in the Bay Area. In college, with the UC Berkeley Jazz Ensembles, I traveled in a big band touring group and recorded in Europe and Japan." His climbing exploits include a month-long trek through Nepal in 2008 to the Khumbu glacier area, which included Mt. Everest base camp. "My brother and I have climbed various 14,000 ft. peaks in the Eastern Sierra, along with Mt. Whitney, and last year we climbed Mt. Shasta." In addition, he finds time to stay involved with the Boy Scouts, teaching science-related merit badges.
When asked how he's seen the industry evolve through the years, Sternad points to what he sees is a decrease in vapor intrusion regulatory levels. "The need to address vapor intrusion impacts has increased as regulatory levels have decreased," he says. "This is both on the vapor extraction and vapor barrier sides. It has helped that the market has provided new, improved, and cost-effective technologies as the need increased. In addition, environmental assessment tools have changed (soil vapor and indoor air sampling), and remediation electrical controls have improved with higher accuracy."
And how would he encourage others to join his field of study? He concludes, "It is amazing to be working in the environmental field at this time. I would suggest to new and young engineers, as well as scientists, that they try to see the larger picture- see how an individual project works as a whole. Be aware of the politics, the history of the project and how it started, and try to learn from anyone they can meet, whether it's in contracts-administration, field staff, equipment vendors, or laboratories. They can all provide valuable insight into how systems work as a whole."
Land Science is proud to have Mario Sternad, Senior Engineer with Stantec Consulting Services, Inc., as a valued client and partner in environmental remediation, and appreciates his diverse background and approach in providing successful remediation and mitigation outcomes for Land Science and its clients.