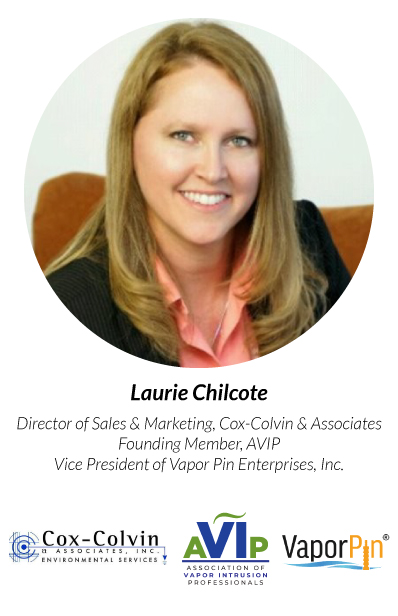 For Laurie Chilcote, a career in environmental mitigation allows her to pursue several professional interests, and helped garner a diverse background. She begins, "I like variety, challenges, collaboration, and helping others. I am grateful for the opportunities my career has provided- meeting and working with so many people and organizations in the environmental industry from all over the world, and collaborating on how to protect the environment." Chilcote admits to "wearing many hats" when describing her current position with Cox-Colvin & Associates, Inc., a leading environmental firm and valued Land Science® partner. She continues, "I have been working for Cox-Colvin & Associates, Inc. since 1995. Currently, I am the Director of Sales & Marketing and the Office Manager for Cox-Colvin & Associates, Inc. and the Vice President of Vapor Pin Enterprises, Inc., and Vapor Pin do Brasil. During my tenure, I've also served as HR Administrator, Business Development Manager, Sales & Marketing Director, AP/AR, and Data Management."  Suffice to say, her time at Cox-Colvin has helped develop a diverse, balanced background, yet one that includes several areas of specialization. Prior to joining Cox-Colvin, Chilcote served as a Regional Business Development Manager for a global design and engineering consultancy. Earlier, she completed course work at The Ohio State University, before initially starting out in the marketing side of environmental mitigation.
In her day-to-day responsibilities, Chilcote manages analytical data and provides managerial and technical oversight on all marketing and sales for the Vapor Pin® product line, both within the USA and Internationally.  She is also responsible for website development, webinar training, product development, distributor management, and customer relations.  She continues, "I also educate the public on Vapor Pin® technology, implementation, and quality control.  As part of that educational outreach, I make presentations to environmental firms, regulatory agencies, and developers throughout the US and internationally on a variety of Vapor Intrusion topics." In addition, she has served on the Board of the American Association of Radon Scientists and Technologists (AARST), and is a founding member of the Association of Vapor Intrusion Professionals (AVIP).  She shares, "AVIP's purpose is to establish a community of Vapor Intrusion professionals who are dedicated to advancing the industry, exploring new technologies, and sharing knowledge and science related to Vapor Intrusion." At Cox-Colvin & Associates, Chilcote appreciates and strives to assist the firm to achieve its long-term goals, which include the continued expansion of services and strong growth in its client base.  One such example includes the recently added services of asbestos sampling and air monitoring. With regard to Vapor Pin Enterprises, she continues. "For Vapor Pin, we would like to expand our European and South American markets and distribution network.  We also plan to continue the development of new products that will help environmental professionals do their work more effectively and efficiently."
When it comes to working with Land Science, Chilcote appreciates their professionalism and commitment to achieving successful outcomes. She continues, "I enjoy working with Land Science because of the people and the company's dedication to its work.  Everyone is personable, competent, collaborative and dedicated to protecting the environment." With regard to specific use of Land Science products and solutions, Chilcote feels two stand out in particular as complements to Cox-Colvin products. "Our Vapor Pin® Insert is used to facilitate the collection of soil gas samples and pressure measurements beneath engineered vapor intrusion barriers, such as Terra-Shield®, or vapor mitigation coatings, as with Retro-Coat®," she says.  "As a result, we have seen our inserts requested in many engineered drawings from Land Science clients. One example of the collaborative relationship we share is showcased by a white paper that Cox-Colvin developed in conjunction with Land Science and REGENESIS®. The project focused on Biostimulation and Bioaugmentation of Recalcitrant VOCs in Groundwater using HRC® and BDI® Plus for a site we worked on together."
Residing in Ohio, where she has lived her entire life, Chilcote enjoys a variety of hobbies and activities outside of work. She shares, "Most importantly, it's about spending time with my children, grandchildren, family and friends.  I am also a big Disney fan.  I have an Annual Pass for Walt Disney World and enjoy the RunDisney events with friends and family. One fun fact is that my daughters and I have matching Disney tattoos (their request!).  When asked what she enjoys most about her work, she quickly points to the connection between humans and our environment. She shares, "I'm passionate about protecting people and the environment, and this career provides me with a platform to do more than just take up space on this earth- it enables me to make a difference on a larger scale and be involved." And the most challenging aspect of her job? "Oh that's an easy one…balancing life and work!" She  also feels honored to be selected this year as an Ambassador for RemTech Europe.  She continues, "RemTech Europe Ambassadors are environmental experts from Control Authority, universities, consultancies, and private companies that support RemTech Europe initiatives disseminating RemTech Europe scientific content." And how would she encourage others to join in her field of study? She concludes, "Network, network, network.  I would encourage others by getting involved with students through mentorships and internships, as well as conferences.  We have also been fortunate to connect with students through organizations such as the American Institute of Professional Geologist (AIPG), the Ohio Environmental Services Industry (OESI), and many others."
Land Science is proud to have Laurie Chilcote, Director of Sales & Marketing for Cox-Colvin & Associates, Inc. and the Vice President of Vapor Pin Enterprises, Inc., as a valued partner, and appreciates her deep and diversified experience and commitment in providing successful vapor intrusion mitigation outcomes.