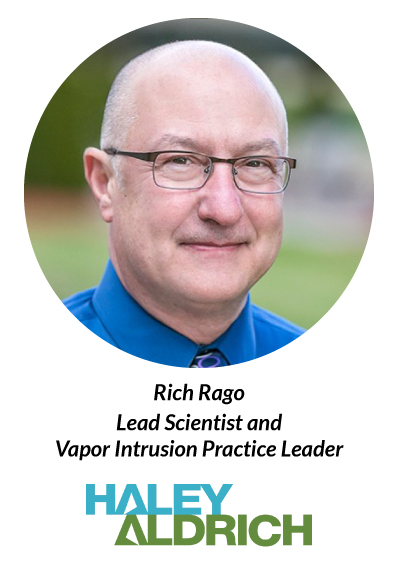 In a highly specialized career spanning 35+ years, Rich Rago, Lead Scientist and Vapor Intrusion Practice Leader at Haley & Aldrich, Inc., still enjoys the thrill of discovering new methods and approaches to his work. He begins, "Over the last 30 years, I have been fortunate to lead research on topics that have meaningfully advanced the environmental practice." Rago started his career with Haley & Aldrich in 1991. The company is a national environmental and geotechnical engineering firm, headquartered in Massachusetts. Upon joining the firm as Senior Scientist, he initially worked in all aspects of environmental consulting, including field planning and execution, data interpretation, report development, and regulatory negotiation. He also established and managed Haley & Aldrich's in-house analytical laboratory, performing screening for volatile organic compounds (VOCs), PCBs, metals, and petroleum fingerprinting. His current responsibilities include working with clients in manufacturing, aerospace, utilities, institutions, and real estate development across a wide range of complex projects, providing high level strategy across their portfolio of sites in the U.S. and abroad. He earned a BS in Environmental Earth Science at Eastern Connecticut State University.
Rago first became interested in environmental mitigation while working for a commercial clinical laboratory in the mid-1980's where he first became involved in compliance with hazardous and radioactive waste regulations. He shares, "This was fairly early in terms of the environmental field. It was my first introduction to the environmental practice, and it was really exciting to get in at the beginning of what is now the environmental industry. The rest is history."
Today, Rago routinely participates in training programs as a member of professional organizations in several states. In addition, he conducts classes along with other experts via the Wentworth Institute of Technology, Air & Waste Management Association, and for an array of professional organizations in several states. He continues, "I love this aspect of my job. I currently provide lectures for Princeton Groundwater's Remediation Courses, and later in October I will be providing lectures for a class in Brazil." When asked about the future goals of Haley & Aldrich, he feels the company is on target to position itself as a leader in integrating technology and human potential to tackle tough environmental issues facing the world. He shares, "The company is always looking forward, and we recognize the future will require nimble adaptation to meet our clients' changing needs. Regardless of how we adapt, we'll always stay focused on delivering an extraordinary client experience, while continuing to be a place where talented people want to work."
When it comes to working with Land Science, Rago appreciates the staff's high level of expertise and commitment. He shares, "With Land Science and REGENESIS, you get to consult with seasoned professionals. I appreciate that they are taking an active role in educating the practice on the advancements in barrier technologies." As for specific product usage, he makes recommendations, depending on the unique situations dictated by each site. He continues, "Most all of my mitigation practices have been active and passive systems, and barriers are generally not products I use as a standalone solution.  However, I recently recommended that a colleague consider Retro-Coat® for a project in the southwestern U.S., and I have specified MonoShield® and TerraShield® on previous efforts."
When asked how he's seen the industry evolve, he feels increased competition and tiered pricing have begun to shape the industry. He continues, "I have seen many firms fail over the years, and a lot of growth by acquisition. In my view, a commodity atmosphere has developed amongst some of our peers, with competition resulting in lower prices and lower quality. On the positive side, we all have brought our successes and failures to the table to better the practice. Some regulations have become more streamlined, flexible, and practical, and some states have gone on to develop successful privatized programs. Firms have also become more agile and specialized, which means I get to work with some very smart people."
Residing in Glastonbury, CT with his wife, Rago finds time away from work to enjoy several outdoor activities. "I love skiing and managed to get in 50 ski days last year, which also included snowshoeing and skating. In other seasons, I enjoy biking, kayaking, boating, and hiking. I love being outdoors!" When asked what Haley & Aldrich has planned for the future, he says the firm is always working towards advancing the practice. He shares, "Haley & Aldrich is always looking to innovate in the field of science and engineering. In essence we're always looking for approaches to apply advances in new ways to solve our clients' emerging problems. We also want to make sure we continue to connect with what's important to our staff so that we all feel engaged and energized by our work." While he appreciates working on his own projects, he finds collaborating with others especially rewarding. "I enjoy working on teams, both internal and external. I love finding technical and practical solutions to complex problems." And the most demanding part? "Working in consulting means sometimes giving it 100% and oftentimes going beyond 100% to meet the demands. For me, the biggest challenge is to do all of it – to be a leader and a mentor, to be a teacher, while constantly learning and looking for new ways to do the same things better. And, of course to make sure we are doing all the other things correctly." And how would he encourage others to join in his field of study? He concludes, "I would encourage entry level practitioners and those thinking about a career in environmental sciences to get broad and comprehensive field experience. Good technical writing skills and data reduction skills are also a must. For the vapor intrusion practice, incorrect decision making can lead to potential inhalation exposures so it's important to take this profession seriously."
Land Science is proud to highlight Rich Rago's work in the industry as Lead Scientist and Vapor Intrusion Practice Leader at Haley & Aldrich, Inc. As a valued client and partner, Land Science appreciates his seasoned experience and leadership in providing successful vapor intrusion mitigation outcomes for clients across the industry.