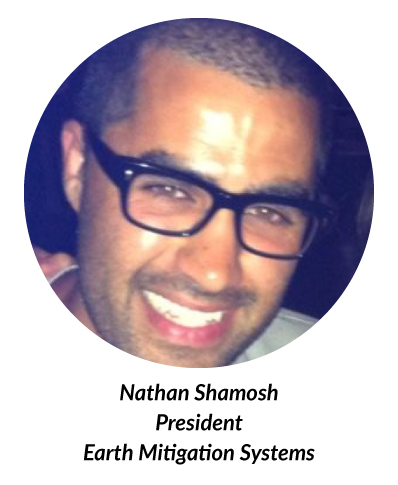 As President of Earth Mitigation Systems, an environmental consulting company and valued Land Science® client, Nathan Shamosh sees the benefits to owning and managing his own vapor intrusion firm, and appreciates the diversity and variety that comes with managing a wide variety of consulting projects over the years. He begins, "I'm fortunate to have developed great relationships with smart people throughout my work experience, and these relationships have allowed me to learn and connect with other like-minded professionals. Ultimately my working relationships have led to hundreds of successful consulting projects. Being able to look back at complex design build projects, or a firm tripling revenues because of specific strategies we implemented, is a gratifying experience." Prior to forming Earth Mitigation Systems (EMS) nine years ago, Shamosh held positions with other vapor intrusion firms including Director of Business Development, National Sales Manager, and Regional Vice President positions. He initially became interested in the vapor intrusion space when he found he enjoyed the technical aspects of engineering, construction, and the development of new technologies to solve environmental problems. His current responsibilities include consulting services to developers, contractors, engineers, and architects on the design and construction of vapor intrusion mitigation systems, building envelope, and renewable energy projects. Additionally, EMS consults on a long term, in-house basis on business development and revenue growth strategies. His educational background includes a BS in Business Management from California State University Dominguez Hills.
When asked what he likes about working with Land Science®, Shamosh mentions the company's ingenuity, especially when it comes to technology. He shares, "Land Science is always looking for creative ways to improve their technologies and provide options that clients can consider for a variety of site conditions. A recent project comes to mind where a client had been using a system that did not work well with subgrade conditions as well as surrounding trade work. The issues ultimately lead to QAQC problems and schedule delays. Working with the Land Science team, we presented the option to use MonoShield®. The ease of installation, and robustness of the system, allowed our team to surpass field challenges and set the schedule up for success. The client could not be happier with the performance of the system and quality of the installation." In terms of other Land Science products and solutions, Nitra-Seal® is also preferred for its quality, price point, and speed of install. He continues, "Nitra-Seal is a competitive option that provides a high level of protection. As an example, we recently worked on a large distribution warehouse facility where the client wanted a composite membrane but was concerned about the costs and time it would take to install. We ran cost/schedule analysis with a variety of systems and presented the options. Nitra-seal was the preferred choice because it came in under budget, provided the level of protection required, and exceeded schedule expectations. To keep up with emerging trends and the latest technology, Shamosh attends webinars and conferences. He shares, "I haven't attended many conferences recently, but in the past I've attended AEHS in San Diego and in Massachusetts. I've also attended the Battelle conferences, ICSC/Recon, National Brownfields Conference, AIA Conference, IBEC, and others." Through his work and efforts to continuously learn about industry best practices, he hopes to accomplish a variety of company objectives that will impact the service EMS is able to provide clients. He continues, We also want to expand VI services into the Southeast and Midwest regions through our in-house consulting. Since each company has different services and challenges, my approach and goals for each one is different. "EMS is also working on proprietary renewable energy technologies that we expect to reach market potential in the near future".
Residing in Brooklyn, NY with his wife and two daughters, Shamosh finds time away from work to be with his family, and also enjoys international travel. "We usually go to Italy for a month every year or travel to other parts of the world. Also, music and art are a big part of our home." When asked what he likes most about his work, he feels the broad range of clients and services are especially stimulating. He continues, "I get to work with different companies at various levels within the environmental industry. Being able to serve multiple disciplines brings diversity to my work, which keeps projects exciting. I also get to work with smart business owners who bring their talents to the table in different ways. Being surrounded by this diverse mix has always led to new paths for EMS and for me personally." And the most challenging aspect of his work? He muses, "The best part of the job can also be the most demanding. Being pulled in multiple directions from different disciplines across various time zones can be difficult." And while his work has its challenges, he realizes his experience and responsiveness in a demanding industry can help differentiate Earth Mitigation Systems. He shares, "We have the ability to consult for different disciplines at various stages in the development cycle. Our experience, forward thinking, and connectivity to the latest technologies serve our clients interests and set the stage for long lasting relationships".
Shamosh also keeps an eye toward the future of the vapor intrusion industry and sees a few areas where change may be taking place. He shares, "I think we'll see more standardized regulations with VI around the country, along with more voluntary systems implemented to protect against litigation. In addition, we'll likely see stronger investments towards a combination of renewable energy technologies, such as landfill gas to energy, biogas, RNG, plastics to energy, solar, hydrogen fuel cells, wind, and hydro. The world's energy needs will continue to grow, however we are still in the early stages of transitioning away from fossil fuels." And how would he encourage others to join his field of study? He concludes, "I suggest students start with a Geotech degree, it's a great base to work up from. I also recommend gaining as much field experience as possible, a combination of field smarts and book smarts will take young professionals a long way. When searching for a position, look for small privately owned companies run by smart, business savvy people who have an unshakable moral code. Stick around long enough to be a part of significant growth, and if there is an opportunity, buy into the company. After you have gained enough experience, I recommend starting a new business. I'm certainly glad I did."
Land Science is proud to have Nathan Shamosh, President of Earth Mitigation Systems, as a valued client and partner, and appreciates his deep and diversified experience and commitment in providing successful vapor intrusion mitigation outcomes for Land Science and its clients.