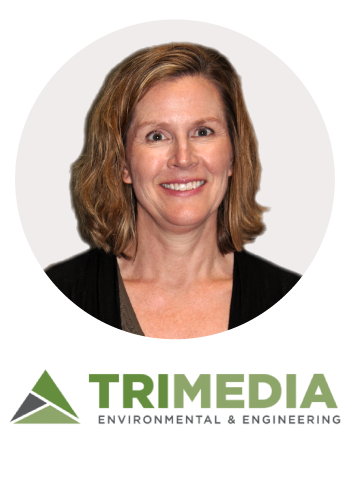 For working professionals who aspire to raise a family, staying on a chosen career path can be especially challenging. But when one gets back on track, it is worth the effort. Just ask Maura Pliska, Project Environmental Engineer for TriMedia Environmental & Engineering Services, LLC, a leading environmental and engineering firm and valued Land Science® client. She begins, "Initially, I worked for Waste Management and their associated entities in the Chicago area for approximately ten years after graduating from college with an engineering degree.  I then stayed home to raise my children for approximately 13 years. When it came time for me to return to the work force, my work experience in the waste and environmental industry lined up well with TriMedia, an established environmental consulting firm located in Marquette, Michigan where we were raising our family. I was excited to return to work in my field of choice and have really enjoyed the opportunities TriMedia provides me so I can continue learning and developing additional technical skills."  In her role with TriMedia, where she has worked the past 11 years, Pliska's responsibilities include environmental due diligence on Phase I and Phase II Environmental Assessments of commercial and industrial properties, and managing environmental regulatory compliance, including the development of various compliance plans and reporting required under state and federal regulations. She also works on Brownfield redevelopment, investigation and mitigation of contaminated sites, accidental spill reporting, and air permitting.
To prepare for a career in environmental engineering, Pliska graduated from the University of Illinois, Champaign, with a BS in General Engineering.  She continues, "The General Engineering program at U of I provided a solid technical overview of the various engineering disciplines, in addition to a business and communication core curriculum. After earning my degree, my initial work with Waste Management and their various entities allowed me to gain valuable experience in designing and permitting solid waste facilities. I also developed operating, closure and construction plans, and participated in quality assurance during the construction phase."  In addition, Pliska has completed the Land Science training, which qualifies her as a certified inspector. When asked what she enjoys about working with Land Science, she points to a recent project that involved significant construction on a prior industrial site. "I had the opportunity to work with Land Science during the Lake Superior State University/Center for Freshwater Research and Education project.  This was new construction on a former industrial site. Portions of the project were funded through an approved Michigan Department of Environment, Great Lakes and Energy (EGLE) Brownfield Redevelopment Grant and Loan, which provided additional new experience for me.  Land Science was great to work with throughout this project, providing both expertise and excellent service. It was through this LSSU-CFRE project that I became familiar with the Land Science TerraShield® vapor barrier system." As she continues to gain experience in her field, Pliska looks forward to strengthening her technical knowledge and enhancing her project management capabilities. With regard to TriMedia, she admires the company's diverse business model, which includes providing industrial hygiene, GIS, health and safety, and land surveying services.  She shares, "The opportunity to be involved in variety of projects is a big part of what makes TriMedia a great company to work for. For example, projects include industrial facility demolitions, mine safety oversight, river recovery projects, drinking water surveys, and utility locating services."
Recently relocated to Grand Rapids, MI, where she lives with her husband, Pliska enjoys a variety of activities outside of work, with hiking and kayaking as favorites. "A favorite hiking spot was Harlow Lake in Marquette, MI and our favorite kayaking was East Bass Lake in Gwinn, MI.  There are so many beautiful spots in Michigan's Upper Peninsula – you really can't go wrong.  We look forward to finding new spots in Southwest Michigan!" She also enjoys cooking, reading and the movies. She shares, " I like making comfort food in the winter like a beef stew or Guinness shepherd's pie.  I recently made Ina Garten's Tuscan turkey roulade that was a hit with the family!" When asked what she enjoys most about her work, she emphasizes how much she appreciates the opportunity to see a project through from concept through construction. And the most demanding aspect? "Keeping up with the ever-changing rules and regulations. Environmental regulations in this industry continue to increase in complexity, so this is an area I need to continually focus on."  She also feels vapor intrusion continues to evolve. She continues, "The increasing data and knowledge concerning per- and polyfluoroalkyl substances ("PFAS") will undoubtedly have an impact on trends in environmental mitigation." When asked how she would encourage others to join her field of study, she underscores the need for a younger generation to explore the many choices that are available. She concludes, "My daughter is a college student in engineering, and that is certainly a good start.  I would definitely recommend young people pursue internships in this field to ensure that environmental work is what they think it is. We can certainly use bright and curious minds going forward!"
Land Science is proud to have Maura Pliska, Project Environmental Engineer for TriMedia Environmental & Engineering Services, LLC, as a valued client and partner, and appreciates her highly specialized background and commitment in providing successful vapor intrusion mitigation outcomes for Land Science and its clients.