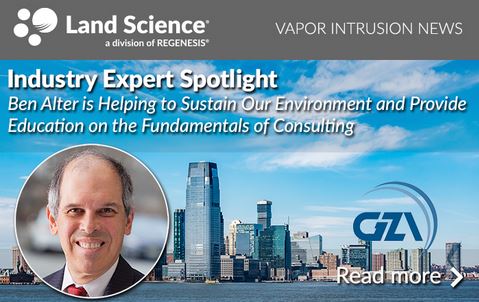 Ben Alter, Senior Vice President and Principal of GZA GeoEnvironmental, Inc., a leading environmental engineering and consulting services firm, has amassed a deep reservoir of applied experience, which includes 22 years at GZA, as well as authoring books about the fundamentals of environmental consulting. With a role at GZA that includes meeting prospective clients, entering into contracts with them, and then overseeing that the contracts are executed properly, Alter is in many ways contributing to help sustain our environment, while also impacting the future success of GZA.


REGENESIS is pleased to present an environmental article series from guest author, Benjamin Alter, leading environmental science author and Senior Vice President with GZA GeoEnvironmental, Inc. In this four-part series, Ben will provide an in-depth look at Brownfields. The third article is available now.
Environmental Consulting Fundamentals, by Benjamin Alter
---

The second edition is a primer for those interested in a career in this dynamic, multidisciplinary field as well as a handy reference for practicing consultants. Combining theory and practice advice into a concise, readable format, the book is an accessible introduction to the types of projects you will encounter as an environmental consultant and lays the groundwork for what you'll need to know in this challenging and rewarding profession. The second addition covers the latest environmental issues, including emerging contaminants.
Land Science Certified Applicator, S&H Installs MonoShield at a Large Construction Build in Texas
This video shows a time lapse of a MonoShield application by S&H Waterproofing and Construction. MonoShield is a chemically resistant and easy-to-apply barrier specifically designed as a preemptive solution for vapor intrusion at brownfield redevelopment sites. It is backed by unparalleled design support, standard industry warranty, and a network of certified applicators who can ensure quality installation.
TerraShield Mitigates Vapor Intrusion On Former SoCal
Industrial Site

A former industrial site located in Southern California was targeted for redevelopment and chosen to be developed into a federally funded public site. Historical operations left the original property contaminated with petroleum hydrocarbons and volatile organic compounds (VOCs). In addition to the presence of these contaminants, new buildings constructed in the area are required to feature a vapor intrusion mitigation system due to the presence of methane gas in the soil, which may eventually enter unprotected buildings on the surface. Because of these factors and the completed site's intended purpose for public use, an effective vapor mitigation system was necessary.
TerraShield is a Best-In-Class Vapor Barrier System Lab Proven to Protect Against a Wide Range of Contaminant Types

When developing properties on sites with known environmental impacts, one of the biggest issues is the risk to human health. Failure to address these issues can result in adverse health effects and millions of dollars in legal exposure. TerraShield was designed specifically to eliminate risk of exposure by employing innovative technologies to provide best-in-class chemical resistance and durability. TerraShield offers a higher level of protection compared to any vapor barrier system available today. With industry- leading standards for installation along with robust warranty options, there is simply no better option on the market for industrial, commercial, or residential vapor intrusion mitigation. Watch the video to learn more about TerraShield.
6 Reasons To Specify a VI Barrier Offering the Highest Level of Chemical Resistance

TerraShield is a significant step forward for vapor intrusion barriers. Employing an innovative dual-metalized film technology in combination with a versatile spray-applied nitrile core, TerraShield provides superior chemical resistance over any existing vapor barrier currently on the market. It is the ideal vapor mitigation solution for residential, industrial, and commercial developments with volatile contaminant impacts that represent significant health hazards and economic liabilities. To learn more about the benefits of TerraShield, download the eBook.
Upcoming Vapor Intrusion Webinar – Sign up today!

In this webinar we are pleased to have as a special guest speaker Mark Quimby, Senior Consultant at SME. His presentation will discuss case studies of large sites where an innovative preemptive vapor barrier technology was applied to save time and money. The sites discussed are >500,000 square-feet and used an innovative approach to reduce construction time. He will be joined by Ryan Miller, East Region Manager at Land Science, who will discuss technologies to mitigate vapor intrusion.
About the Presenters:
---
Mark Quimby
Senior Consultant, SME
Throughout his 14-year professional career, Mark Quimby, Senior Consultant at SME, a leading regional multi-service engineering and consulting firm and valued Land Science client, has established himself as a top expert in the field of assessing and mitigating petroleum, chlorinated solvents, and methane vapor intrusion sites. During this time, he has designed and installed dozens of vapor intrusion mitigation approaches inclusive of sub slab passive venting, multiple types of vapor barriers, active sub slab depressurization, and passive interceptor trenches. In addition, he has secured and managed over $50 million in local, state, and federal incentives that include grants, loans, tax abatements and credits, and tax increment financing.
Ryan Miller
East Region Manager, Land Science
Ryan Miller is the East Region Manager for Land Science, a division of REGENESIS, Inc. Ryan's role includes providing technical support in the design and installation of TerraShield, Nitra-Seal, MonoShield and Retro-Coat vapor mitigation systems, and educating the environmental community on advancements in vapor intrusion barrier technology, implementation, and quality control. Ryan has extensive experience in the environmental consulting industry, most recently working on brownfield redevelopment projects and specializing in vapor intrusion mitigation. Ryan earned a MBA from Montclair State University and a Bachelor of Science degree in Environmental Studies from Siena College.
Get Started Today
To receive a custom vapor intrusion solution, please call 949.481.8118 or visit landsciencetech.com/contact-us. One of our Technical Solutions Managers will review your project details and provide you with a customized vapor intrusion solution designed to achieve your site goals.