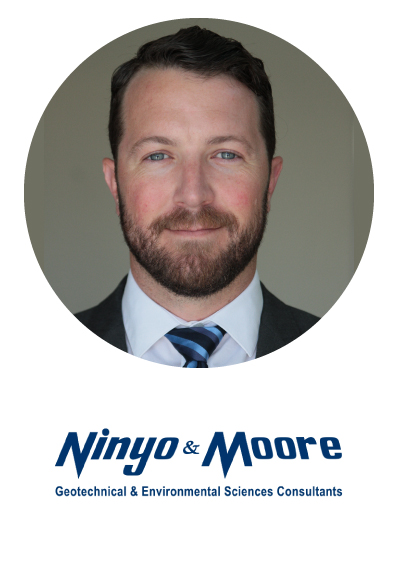 When Travis Coburn, Senior Engineer for Ninyo & Moore, set his sights on a career in environmental mitigation, the diverse range of responsibilities he would assume became a pleasant surprise. He begins, "As an environmental engineer, my emphasis has been on environmental compliance, but it allows me to enjoy a variety of different aspects within my field. These include contaminated site investigation, remedial system design and installation, treatment system startup, and operation and maintenance." In addition to these specific responsibilities at Ninyo & Moore, a leading geotechnical and environmental sciences consulting firm and valued Land Science® client, he works on a variety of projects as well. He continues, "I am involved in a wide range of complex and interesting projects that include school, railroad, air and sea ports, military, oil and gas, brownfields, construction, and waste disposal sites. In addition to providing technical consulting services, I manage contracts and projects, and mentor our younger staff." Coburn joined Ninyo & Moore seven and a half years ago as a Project Manager/Engineer, and was quickly promoted to Senior Project Manager/Engineer, before being named to his current position. Prior to Ninyo & Moore, he served as a Senior Staff Engineer and as a Senior Environmental Engineer at other civil and environmental engineering firms. To prepare for a career in environmental sciences he earned a Bachelor of Science in Environmental Engineering from Cal Poly San Luis Obispo.
Coburn's interest in environmental mitigation began during his freshman year at Cal Poly San Luis Obispo. "I always wanted to do something that would help 'clean' the planet," he says,  "and I felt my strengths in math and science, along with my urge to solve problems and puzzles, would be well-suited for a career as an environmental engineer." His interest in mitigation was piqued early on in his career while working on a challenging project, which served to provide both inspiration and confirmation he had chosen the right career path. He continues, "Early in my career I was involved in a site assessment and mitigation project in a small town heavily impacted by 100 years of industrial rail operations. It was the first project where I saw first-hand how devastating groundwater contamination can be to a community and ecosystem. It definitely inspired me to be part of the solution and help provide a solution to ensure residents felt safe." When asked what he enjoys most about his job, he quickly points to the diverse nature of his work. "I really enjoy the variety of projects and challenges they present. I've also enjoyed the travel and places some of my projects have taken me, including Montana, Washington, Hawaii, and the Marshall Islands."
When it comes to working with Land Science, Coburn appreciates their quick response and knowledge base. He shares, "The people I've interacted with at Land Science have always been friendly and responsive. I've reached out to Land Science on several soil gas intrusion mitigation designs I've prepared and they've always helped me identify the right product for the job, which oftentimes leads to large cost-savings for construction." With regard to specific Land Science products, Nitra-Seal® is used frequently, due to its effectiveness and versatility. He continues, "Land Science's spray-applied barriers have a lot of advantages- especially in parts of California, where we often have sites that have the potential for methane, petroleum, and VOC intrusion. It's great to have a barrier that is both effective and resistant to them all." The success using products such as Nitra-Seal complements the future goals of Ninyo & Moore. "Our team has a wide range of talents and services, so we want to maximize our offerings and services to our existing clients, and develop new client relationships." To stay abreast of current industry trends and evolving technology, Coburn regularly attends industry related webinars and presentations, as his schedule allows, which unfortunately isn't as many as he would like. "REGENESIS and Land Science offer several of these throughout the year, which have proven to be very informative and helpful."
Living in Orange County, CA with his wife and daughter, (and a new son on the way), Coburn enjoys several hobbies and activities in his spare time, such as camping, running, cooking, and playing the guitar. He shares, "I love camping in Big Sur, which usually includes stopping by some Paso Robles wineries along the way. I grew up camping in Yosemite and the Sierra Nevada range can get pretty crowded, so I prefer backpacking when up there. I've run a few marathons, and the Big Sur race is my favorite. For the guitar, I enjoy playing the blues, especially Lightnin' Hopkins, 90's alternative, and the occasional Led Zeppelin tune. I was in a punk band in my early teen years but after a two-decade hiatus, I had the urge to pick up the guitar again just for fun." He also finds time to perform volunteer work for Habit for Humanity and the Natural Resources Defense Council. When asked what he sees the future holds for environmental mitigation, he feels the industry will continue to emphasize understanding the extent of emerging contaminants, such as PFAS. He adds, "We want to continue helping our clients navigate how to best respond to evolving regulations. I also expect to see an increase in Brownfields redevelopment to meet population growth and the demands of our challenging California housing market." Asked how he's seen the industry change, Coburn feels regulations have become a key factor. "When I started, I saw a lot of resistance to environmental regulations, but now many of our clients want to work with regulators to ensure they are doing everything they can to address and mitigate environmental concerns." And how would he encourage others to join his field of study? He concludes, "I've talked to quite a few students considering this field and I always tell them it's a rewarding career that offers you whatever career path you're looking for. Plus, you won't always be stuck behind a desk!"
Land Science is proud to have Travis Coburn, Senior Engineer for Ninyo & Moore, as a valued client and partner, and appreciates his wealth of experience and leadership in providing successful vapor intrusion mitigation outcomes for Land Science and its clients.